How to Make Die Cut Stickers (Quickly & Easily)
August 25, 2023
|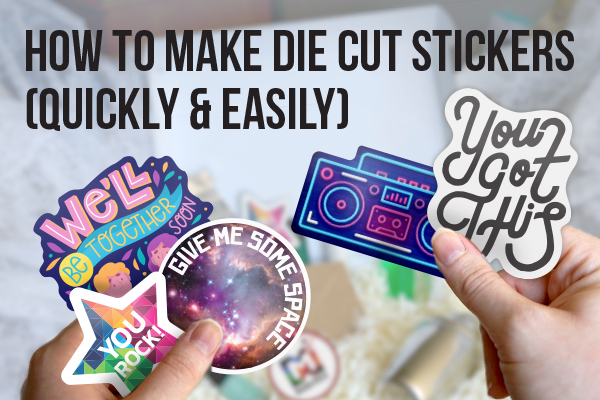 One of the reasons stickers are so popular is that they are highly customizable — you can unleash your creativity and make a design that's uniquely yours!

Die cut stickers allow you to curate your own design and incorporate unique shapes and patterns. If you're interested in making die cut stickers for your personal, business, or branding use, here's a step-by-step guide.
What are Die Cut Stickers?
Usually, stickers are printed in standard circle, square, rectangle, or oval shapes with a white background surrounding the design. Die cut stickers are a new innovation that removes the dreaded white space and cuts the stickers into unique shapes.

The cutting technique contours the edges of the image to place emphasis on its structure and form. This gives you more opportunities to get creative with your sticker's custom shape and create a professional-looking design that fits well in any application.
How are Die Cut Stickers Made?
Die cut stickers are easy to make — you can customize them yourself using different sticker materials and a couple of tools. Here's what you need to get started:
Sticker paper or vinyl
High-quality printer
Cutting machine
Step 1: Create Your Design
The beauty of making your own die cut stickers is in the ability to customize them with your unique design. Even without experience or art know-how, you can easily create custom stickers with free design tools like Canva or Graphic, which have thousands of templates you can choose from.

When you've chosen or drawn your own image, create a custom cutline to shape your die cut stickers. You can do this in Adobe Illustrator. After you've done that, add a bleed beyond your cutline. This will help ensure that the colors are printed to the edge of your sticker, minimizing white spaces or gaps.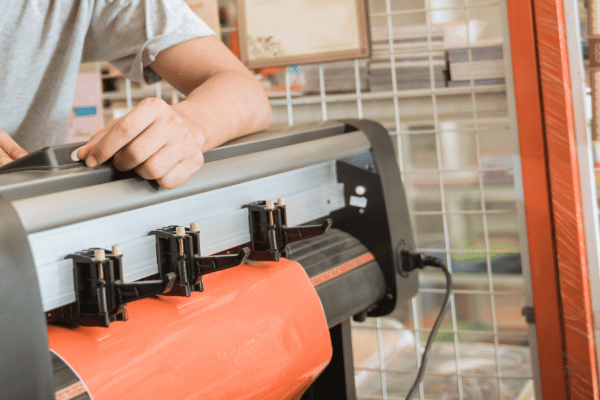 Step 2: Choose the Right Sticker Material
Now that your design is ready, it's time to pick a sticker material. The type that you choose will determine how your sticker looks when printed and how long it can last when applied to your intended surface.

When choosing a sticker material, pay attention to the following characteristics:
Durability - Some sticker materials hold up well to sun and water exposure, while others don't. Depending on your intended application, choose a material that can withstand the weather and temperature conditions it will be exposed to.
Look, texture, and finish - Each sticker material will have a unique look, texture, and finish. Look for one that suits your design best.
Compatibility with your printer and cutter - Sticker materials have unique temperature and ink requirements. Make sure you're aware of what they are and check if your printer and cutter can accommodate them. Doing so will ensure you yield the highest quality print.
Considering the factors above, two popular sticker materials that you can choose from are paper and vinyl.
Using Paper Stickers
Stickers are usually made of plastic. But if you want an environmentally friendly alternative, you can opt for paper as your sticker material. Keep in mind, however, that paper isn't waterproof and is less durable than other options. They're best for short-term applications and can be recycled or composted when you're done with them.
You'll usually find paper stickers being used for product packaging or labeling.
Using Vinyl Stickers
Vinyl stickers are highly versatile and durable. This material is resistant to water exposure and stretching, making it suitable for rigorous applications. You can stick them in water bottles, condiment jars, phones, laptops, etc.
Vinyl stickers come in plenty of colors and finishes, giving you a plethora of types to choose from, depending on what compliments your design.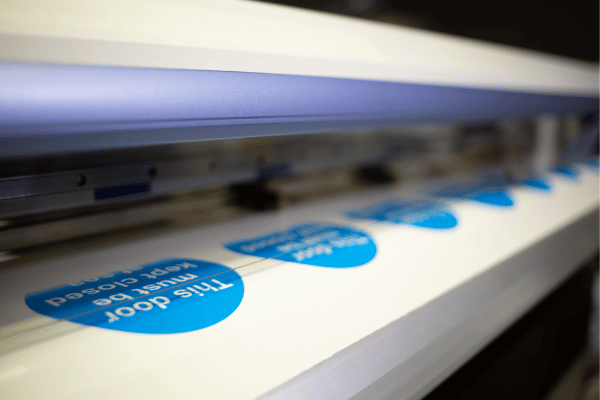 Step 3: Use a High-Quality Printer
The type of material that you choose is just one factor that determines the quality of your die cut stickers. The other is your printer. As mentioned, your printer should be compatible with your sticker material.

If you are printing die cut stickers for personal use, you can stick to whatever printer you have at home and still yield good-quality stickers. But if you're starting a sticker business or want to achieve a more professional look to give away as branded merchandise, you might want to think about investing in a professional printer. Some good options are the Epson XP-7100 or the Canon PIXMA PRO-100S.
Step 4: Convert Your Colors from RGB to CMYK
RGB (Red, Green, and Blue) is the standard color profile used to create designs in online tools and platforms. When you created your sticker design, the colors may have been set to RGB by default.

But in order to ensure more accurate colors upon printing, you'll want to convert the color profile to CMYK (Cyan, Magenta, Yellow, and Key). This color mode is typically used by sticker printing services to yield more vivid images on paper. There are online tools that can help you make the conversion with ease.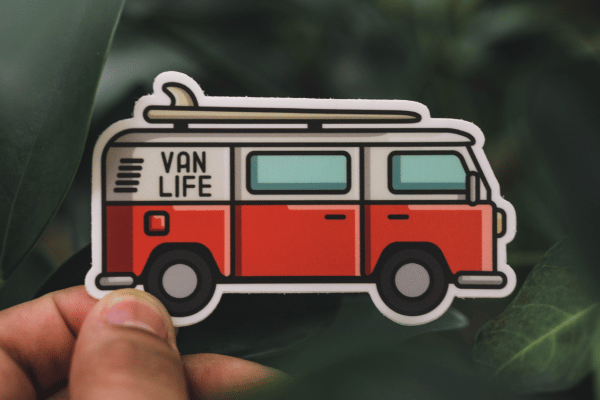 Step 5: Give Your Stickers a Custom Shape
When you've printed your stickers, the next step is to give them custom shapes. While you can do this with just scissors, you may want to invest in a die cutting machine to make the process faster and yield a cleaner and more professional-looking cut.

A cutting machine can help you perfectly cut along the edges of your design's outline, creating a unique shape that puts emphasis on the image and its unique form.

And there you have it! Creating your own die cut stickers isn't as hard as it sounds – but the process can be tedious, especially if you're planning on making multiple stickers with different designs. If you need die cut stickers printed in bulk, StickerYou can do all the heavy lifting for you.

Our platform helps you create and print custom die cut stickers for personal or business use. You can order any size, shape, and quantity and get the finished stickers delivered right to your doorstep. Create a design on the StickerYou platform today or request a quote for your custom sticker order.