Introducing the Mobile Compatible StickerMaker!
November 13, 2019
|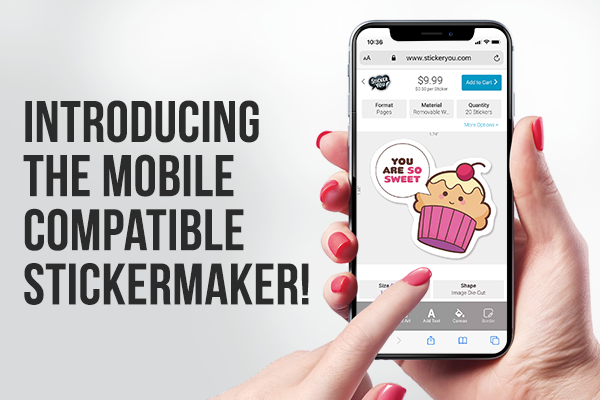 Share this post:
As an e-commerce based company, StickerYou is on the front lines of technology innovations. We adapt with technology as it evolves and we aim to constantly be advancing and innovating our printing technology.
When StickerYou was created 11 years ago, it would have been laughable to think of creating and ordering custom stickers from your mobile phone. So, it is very exciting to announce that our website and Sticker Maker are now mobile screen optimized! This blog post will reveal the new features of our newly mobile optimized Sticker Maker and what you can expect the next time you design a sticker.
Now that people are using their phones more than ever, mobile compatibility is essential for e-commerce companies to stay prevalent in the e-commerce market. While making purchases on your phone is convenient, we at StickerYou took it one step further and have made it possible to buy and design all of your StickerYou products from your mobile device. The Sticker Maker improvements also allow for more control over color and customization, easier access to the art library and immediate payment information.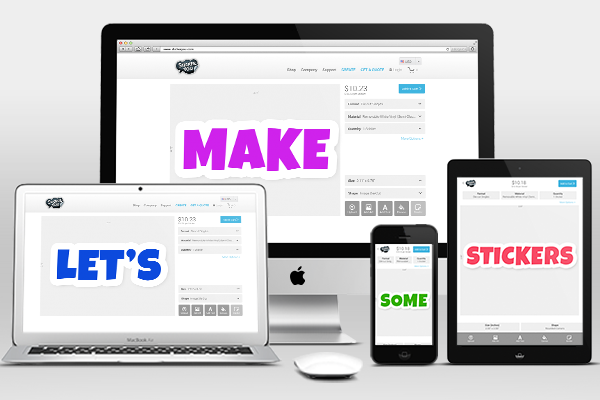 Notable Changes in the Sticker Maker
Layout:
The intuitive layout of the new Sticker Maker will make creating your custom design easy on any device. The new Sticker Maker is the same across all devices and all custom products. Other than a few layout tweaks to be optimized for various screen sizes, the sticker maker remains the same, making it easy to work across devices without needing to figure out a new program. The simplified mobile layout makes it easy to find each tool with the touch of a button, or the tap of a finger! Although we call the application the Sticker Maker, it's actually a tool to design any of our custom products. The design app is consistent whether you are making a sticker, decal, patch or any of StickerYou's amazing customizable products.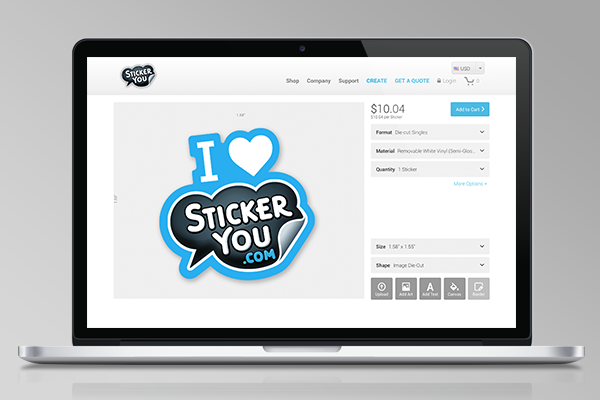 Designing:
With the new Sticker Maker, there is more freedom to make precise changes as you design your custom product. When you open the sticker maker, the first screen you now see is the editor rather than a prompt to choose artwork. So it's now easier to add elements, like images and text, in whatever order is best for you. You can now also easily pick and use any colors the human eye can imagine. There is a full spectrum of colors to choose from for your text, borders and backgrounds. If you need a precise color to match an image you've uploaded, just use the eye-dropper function in the color selector to match the exact color you need.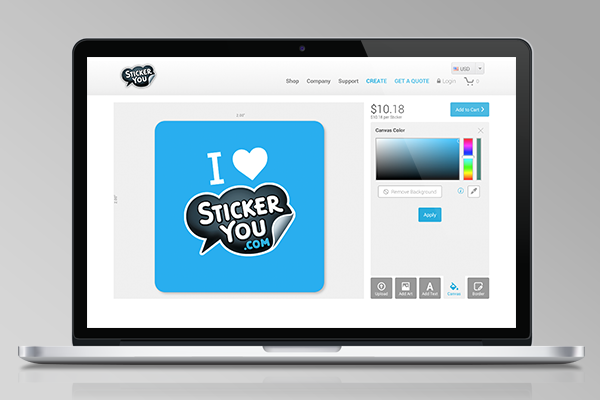 Artwork:
If you are choosing designs from the StickerYou library of images and artwork, it's now easier than ever to find the image you need with the improved image search engine. If you are uploading your own image, you can now upload your image right from your phone's camera roll. This is perfect for making stickers of your favorite memes or fridge magnets of your businesses' Instagram photos.


Payment:
If you've ever made a design just to see how much it costs, you're not alone! With this update, you don't have to go through the steps of making the whole design when you just want to know the price. By playing around with the key design factors, like size and material, you can see your price quote reflect your choices in real time. Additionally, it's now possible to get a precise price quote on a custom quantity, for example, if you want 33 stickers, you can see that price compared to the other quantity options right on your design page.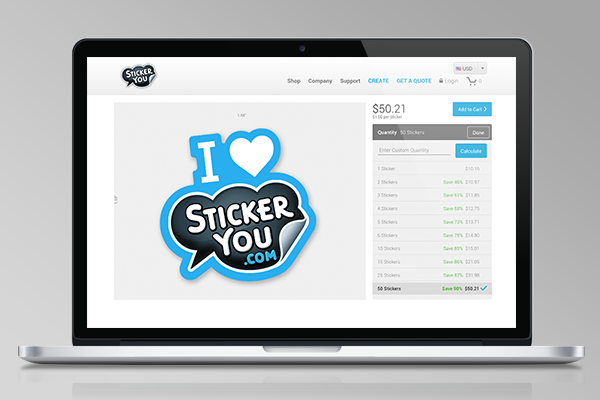 The Future ECommerce is on Mobile
As a smart business entrepreneur, you may have already noticed how the increasing popularity of mobile devices has influenced consumer behavior. Smartphones and tablets have changed how people read, learn, play, and most importantly for e-commerce businesses; shop.
The use of mobile smart phones has exponentially increased throughout the past decade. This is partly due to better and less expensive mobile connectivity around the world and mobile technology improvements that make browsing on a mobile device more convenient than using a standard computer. 71% of all e-commerce is already compatible on mobile devices like phones and tablets. Since people are shopping on their mobile devices, all e-commerce shops should be optimized for mobile use. There is nothing worse than a badly designed or non-mobile adapting site. Having a poorly designed site is actually bad for business, 73% of mobile e-commerce consumers said that they would switch from a poorly designed mobile site to one that makes purchasing easier. So, it's essential that your website is up to snuff.




Making your ecommerce site mobile optimized has additional advantages in the success of marketing your products. Most internet ads are on seen on mobile, so clicking the ad and completing purchases should all be on the same device. Make buying your product as convenient as possible to produce the most sales. Clicking on an Instagram post and buying a product immediately is not only super convenient, but the future trends of e-commerce insist upon it.
Improvements are a funny thing. While at first it may seem so different, soon we won't be able to remember the Sticker Maker without these great new features. Go check it out, we can't wait to see what you create.
Want more great ideas and inspiration? Follow us on social, or sign up for our newsletter for amazing deals delivered directly to your inbox.
StickerYou blog posts are written and published by members of the StickerYou team at our headquarters, located in the beautiful city of Toronto, Canada.