New PageMaker Tool – 3x Faster!
September 27, 2016
|
Our team has re-vamped and upgraded our online PageMaker tool. Not only is it better and easier to use, but it's also three times faster! It is now easier than ever to create custom, multi-design pages with no minimums! Whether you're uploading custom artwork, using images from our online pre-loaded artwork, or creating custom artwork using our design tools, the PageMaker is a breeze to access and order online.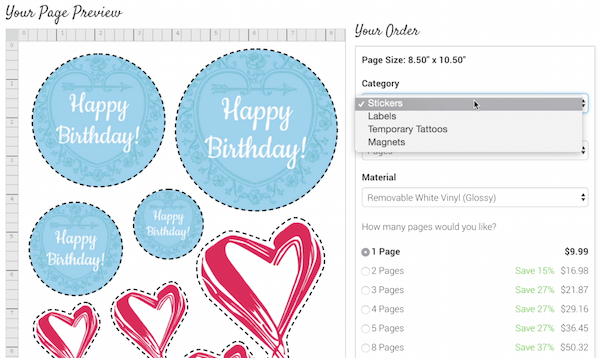 Our PageMaker can be used to design many different types of custom stickers, labels, temporary tattoos, or magnets! You are given a standard page size area in which you can drag and drop as many designs as you'd like – you can even order as little as one single page.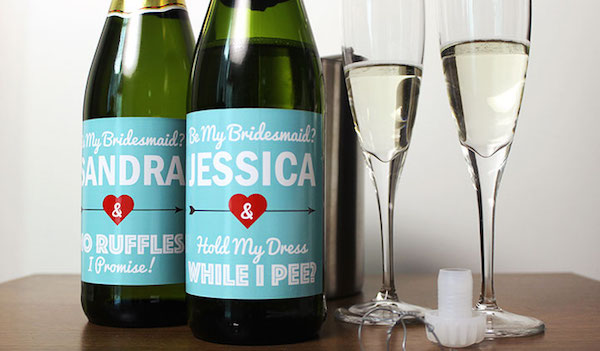 Using the PageMaker is simple, just follow these guidelines below:
1. Upload your image. Your image will need to be in .JPG, .PNG, or .GIF format, and under 10MB. Alternatively, you can browse our custom pre-loaded art gallery, or design your own artwork using our tools!

2. Select your die-cut shape. This will determine the shape your stickers are cutout when they arrive to you.

3. Re-size and re-position your images. Set up your page as you'd like it to appear when printed, feel free to get creative!

4. Select your product category. You can choose from stickers, labels, temporary tattoos, or magnets.

5. Complete your order. When your masterpiece is finished – simply click "Done Editing" to add it to your cart, then follow the checkout steps!
If you need additional assistance, check out this video tutorial!



Frequently Asked Questions


I am getting an "Overlapping Stickers" warning, what do I do?
This error occurs when your stickers are too close together. If you click the "Show Me" button, the PageMaker will highlight the stickers that are too close. All of your stickers at least 1/8th of an inch apart and this warning should go away!


What is the difference between "My Designs" and "My Uploads"?
The "My Designs" tab shows previously ordered designs, any stickers you have ordered previously will remain here for you to re-use, simply drag and drop them onto your page as needed. The "Recent Uploads" tab shows artwork that you have uploaded when creating your current page; these will disappear once you complete or close your session. Note that if you use a previously ordered design from "My Designs", you will not be able to increase the size beyond the original size ordered.


Why Does My Sticker Keep Resizing (Shrinking)?
If the resolution of your stickers is too small, the size of your sticker will automatically snap to the maximum size we can print the sticker without it looking blurry. Images must have a minimum resolution of 150, meaning there must be at least 150 pixels/inch in your image.
Get other great ideas, inspiration, and sweet deals delivered right to your inbox by signing up for our newsletter
here
.
For even more business branding, and life hack ideas, check us out on Facebook, Twitter, Instagram, Pinterest, Google+, and YouTube.