How to Have an Impactful Presence During Pride
June 11, 2019
|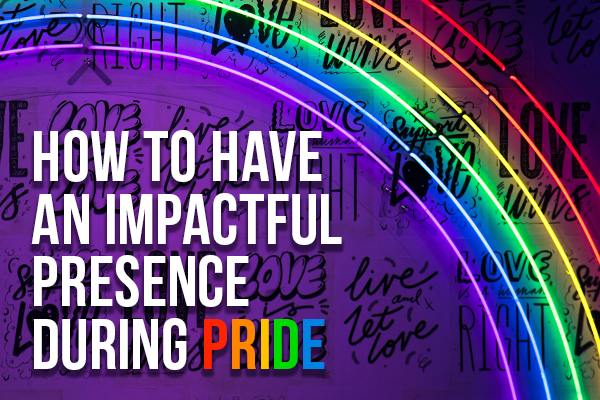 Share this post:
Former U.S. President Barack Obama said it best: "when all Americans are treated as equal, no matter who they are or whom they love, we are all more free." Although there are many milestones and achievements to honor and celebrate this Pride Month, unfair biases and discrimination towards the Lesbian, Gay, Bisexual, Transgender, and Queer (LGBTQ+) community continue to exist to this day. The fight is not over, and it's important to have a professional and mindful presence during Pride, particularly if you are involving your business.

A 2018 study conducted by the Human Rights Campaign Foundation titled ​A Workplace Divided: Understanding the Climate for LGBTQ+ Workers Nationwide found almost half of LGBTQ+ people surveyed remain closeted at their workplace. The study of 804 LGBTQ+ respondents found that there were several reasons why 46 percent of LGBTQ+ workers are not open about their sexual orientation or gender identity at work. The most common reasons include a fear of being stereotyped, losing relationships with coworkers or not wanting to make others uncomfortable.

At StickerYou, we are committed to providing a workplace that respects and promotes human rights, personal dignity, expression, health, and safety. Creating an open and safe space for all identities will open the doors to a more friendly, productive, and inclusive environment. For this reason, we wanted to highlight five best-practices businesses can use to create an LGBTQ+ inclusive workplace.


Give Back to LGBTQ+ Organizations
Volunteer initiatives and team fundraisers are one of the best ways to break out of the everyday routine, boost company morale, and give back to worthy causes. There are many different ways your team can raise funds for local and national LGBTQ+ organizations. This Pride month, sell tickets for a raffle for a bonus vacation day, or ask employees to buy tickets to participate in a Casual Dress Down Day with all funds going towards organizations that support LGBTQ+ causes. Organizations like the Pride Foundation, The Trevor Project and GLAAD are just some of the many incredible non-profits that are changing the world for the better.

Keep in mind that office fundraisers don't have to be elaborate, after all, everyone loves a bake sale! Custom labels are a great way to brand a bake sale, and thank you stickers are a fun token of appreciation to those that participate in any type of fundraiser.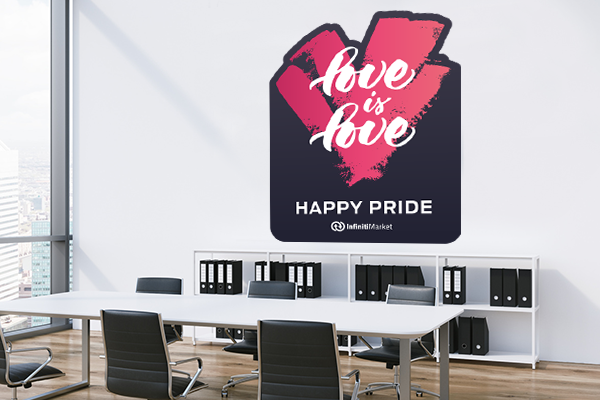 Display That Your Business is a Safe Space
Even small actions can make a difference. Companies can show their support for the LGBTQ+ community by displaying a safe space ​sticker ​or ​static cling ​on a prominent place of brick-and-mortar businesses. Google My Business also has an option for business owners to mark their company as "LGBTQ+ friendly" and as a "Transgender Safe Space" on their Google listing, which is a great alternative for e-commerce business.

Establishing your company as a queer friendly business will help make people in the community feel safe when interacting with you and purchasing your products. You don't need to get too involved in the politics of it all, however, promoting that you're accepting of all walks of life opens the doors to more business and great personable interactions.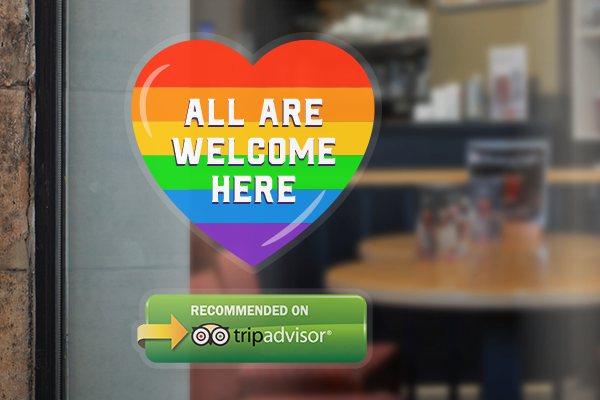 Participate in Local Pride Events
There's no better way to celebrate Pride month than by attending a local annual Pride parade! Show your business and coworkers support by organizing a team social at local pride celebrations. Let others know that your business is an ally and supporter of the LGBTQ+ community by creating branded shirts for your team to wear to the festivities.

Throughout Pride month, most larger cities will also hold an array of different queer events. This can be everything workshops and seminars, to marches and protests. It's always a good idea to consider donating and contributing monetary or non-commercial value to these events, as this is often where the most education and impactful discussions arise.

Pride is a very historical and sensitive time for queer identified individuals. It's important that when you establish your corporate presence at Pride celebrations and festivals, you're mindful of how you present yourself. For example, putting your logo on rainbow merchandise and swag can sometimes come off as though you're using the occasion for business gains. Above all, it's a great idea to challenge your company to give back to the community, get involved in LGBTQ+ events, and build relationships. Nothing will be more impactful than having personal interactions with members of the community!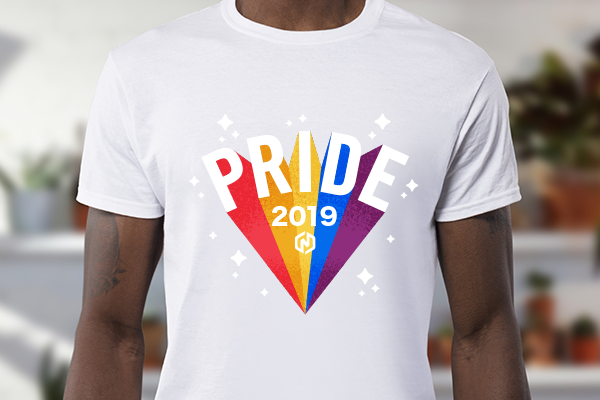 Promote Policies of Diversity and Equity
A workplace that embraces diversity does so every day of the year, not just during specific holidays or festivities. Every StickerYou employee is trained on our Policy of Respect which is based around the philosophy to treat others the way you want to be treated. At StickerYou, we also proudly uphold an open door policy where any employee experiencing or witnessing unfair behaviour can communicate with their supervisor or their manager (including the CEO) in strict confidence without fear of repercussion. This open door policy and our policy of respect promotes openness and transparency in our offices.

If you currently don't have any LGBTQ+ policies or guidelines for your company, get involved with your human resources staff to build out some basic policies! This will deter any discrimination or harrassment that could potentially occur - it will also promote company morale and overall employee satisfaction.


Share Preferred Pronouns
Sharing pronouns in the workplace matters. People too often make assumptions based on binary male/female and singular/plural framework, which leads to cases of misgendering those who idenitfy as nonbinary, genderqueer, or gender nonconforming. Honor your peer's personal pronouns at work by incorporating opportunities for pronoun identification. Quick introductions give people a chance to establish their pronouns - you can also include them in your corporate email signatures! If you're unsure of somebody's pronouns, it's never a bad idea to ask. If you slip up, just apologize and move on!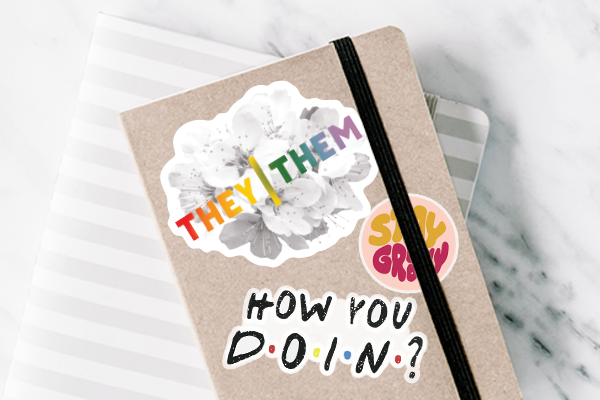 Bonus Tip: Have Fun!
Above all, it's important that you and your peers have a good time during Pride month. Get outside and meet people, share stories, and build some awesome friendships. You'll never run out of fun and exciting parties and events to attend, so take advantage of it while you can! Whether you're going to represent yourself or your company, you're sure to make some awesome memories that you'll remember for many years to come.
Want more great ideas and inspiration? Follow us on social, or sign up for our newsletter for amazing deals delivered directly to your inbox.
StickerYou blog posts are written and published by members of the StickerYou team at our headquarters, located in the beautiful city of Toronto, Canada.