Making what Matters Stick: Q&A with Rowan
May 14, 2019
|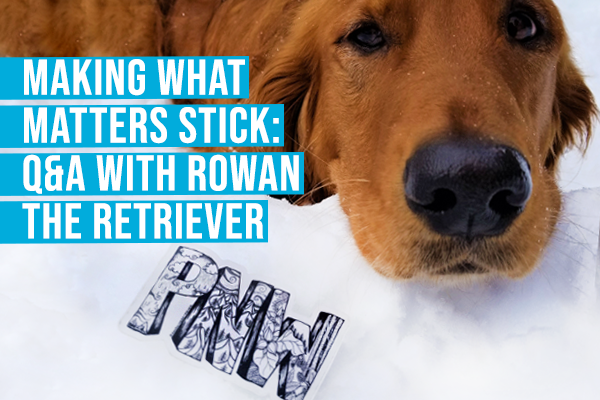 Share this post:

Brenna Anderst's sticker art is inspired by her treks through the Pacific Northwest with her dog, Rowan. She works under the name Rowan the Retriever. A combination of whimsy and nature, Brenna's art is infused with a sense of wonder at the everyday beauty and splendor of the great outdoors.
We caught up with Brenna to learn more about why she loves making stickers, growing her business, and how she brought Rowan out of her shell by taking her on hikes in the great outdoors.
When did you first make a sticker?
I've always enjoyed making art, ever since I was a little girl. I would draw pictures of things that made me happy, mostly animals. As I got older, people would ask when I was planning on selling some of my work. It was something I hadn't considered. I didn't see myself as an artist. I also thought that selling art meant putting myself in a box creatively. People generally have expectations for the way fine art is produce: make an image, reproduce fancy prints in plastic covers, and sell in a gallery. I think art is way more adventurous!

But, as I started to think about sharing my art, I started to think about how to make it more accessible to people. Many people want to support local artists and their community but can't afford it. Almost anyone can afford a sticker. Stickers open up possibilities for personal expression beyond the artist. If you are athletic you can put one on your water bottle, or maybe a designer might put one on a laptop. It allows others to be creative with something that you created. Plus, it has been really fun to see some of the adventures that my stickers go on!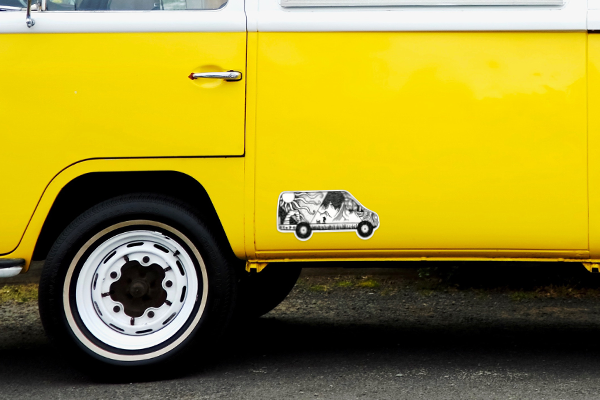 What's the first sticker you ever designed?
It was of Mt. Baker and says 'Home'. It's very colorful, with flowers and trees.


A lot of your art is centered around your dog, Rowan. Can you tell us more about her?
I adopted Rowan about three years ago, she was nervous and un-socialized. Before she was with me she hadn't really had the chance to express the happy, curious, and adventure loving dog that she is.

Seeing how timid she was, I wanted to allow her to just be a dog. I started taking her on shorter, easier hikes, to get her used to being outside, and she loved it. It was amazing to see her start to come out of her shell. It didn't matter what we were doing, her excitement was infectious. She is the perfect hiking buddy because she is never disappointed. It doesn't matter if we don't make it to the top of the mountain, she is just happy to be there.

I started making stickers inspired by our time outdoors together. They were fun and whimsical representations of our experiences.


Do you have a favorite sticker you've made?
Oh gosh, a favorite? Probably the dog paw that says "Never Leave the Dogs Behind" I also like the Orca Whale because of the details in the waves.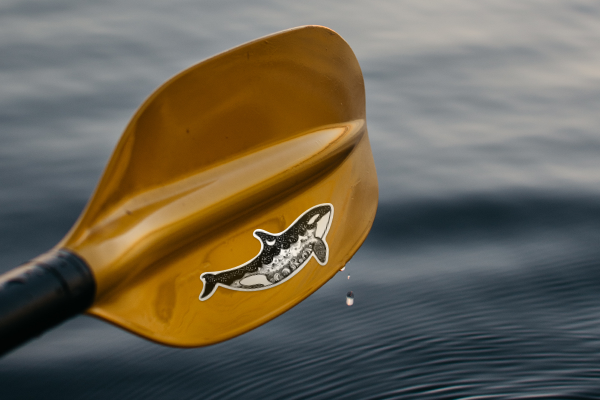 Do you make art for a living?
No, it's still more of a hobby for me. I work at an animal sanctuary, doing outreach. So my day job mostly involves teaching school kids about animals and inspiring others to advocate on behalf animals.


An animal sanctuary? How did you get into that?
I wanted to work with animals ever since I was little. I thought I would be a veterinarian. But when I got to high school, I started to become daunted by the math and science classes that I would need to take. I ended up getting a degree in Human Services with a focus on Youth Development. Then I found my current job, which perfectly combines my love of animals and my professional experience working with kids.


How many stickers have you made so far?
I've made about 50 different designs.

You sell your stickers on Etsy. When did you start that?
About a year and a half ago. It was exciting to see the influx of interest when it started. People would buy them as gifts, for stocking stuffers, or to send in cards. Many would order one just to send to a friend because it reminded them of that person. It was really sweet.


Do any of these stand out?
One story does, but it's actually really sad. The sticker that says "Never Leave the Dogs Behind" has been really popular and often comes with stories. But, one person bought it and sent me a message telling me that it was a personal mantra for her. She had left her dog at home when she went to go grocery shopping, when she came home she found that her house had caught on fire with her dog inside. At that point, she vowed to never leave her dogs behind ever again. When I made that sticker, I was inspired by the happiness that my dog feels when she is invited to come along for an adventure. But this woman felt something else when she saw this sticker, it really meant a lot to her.


Are there any artists you admire or are influenced by?
Yes, there is an artist in the Seattle area named Nikki Frumkin her page is called Drawn to High Places. She does a lot of mountain-inspired art, especially the Northern Cascades. Her work is bright and happy, truly bringing the mountains to life.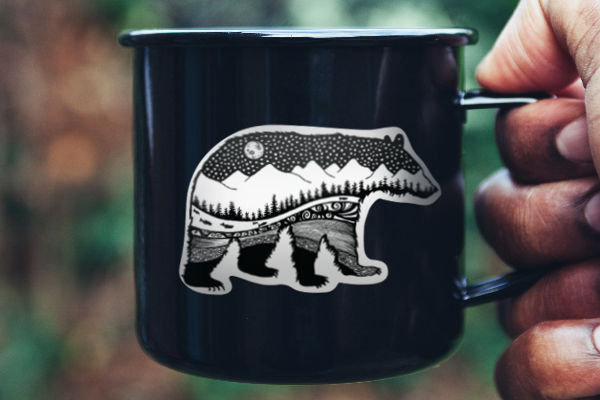 Does your love of nature inspire your love of art?
I think they are one in the same. Nature creates so many beautiful things. Right now it's getting warmer and the icicles are melting into different shapes, everything is unique. The way that streams and rivers bend in different places. Mother Nature, by nature, is creative.


Are you thinking of growing your sticker business?
Lately I've been thinking I want to see it grow. I am toying with the possibility of reaching out to local businesses or co-ops, getting some up in storefronts, that kind of thing. I have been selling a few at my local climbing gym, which is fun. Most of the people there enjoy the outdoors or have a dog, so they are the perfect customers.
Want more great ideas and inspiration? Follow us on social, or sign up for our newsletter for amazing deals delivered directly to your inbox.
StickerYou blog posts are written and published by members of the StickerYou team at our headquarters, located in the beautiful city of Toronto, Canada.