Toronto: The Place To Be for the World Cup
June 20, 2014
|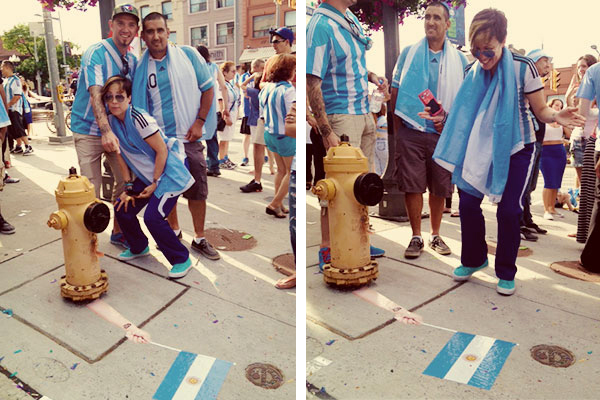 It's no secret that Torontonian's love their sports. We have some of the best sports facilities in North America, and our stands are always packed and our fans loud. Our city's diversity and energy means every sport is represented, even soccer. And while the Canadian team may not be participating this year, the spirit of the World Cup has descended full force in our communities. Even the StickerYou Crew is participating with our new street decals.
If you are familiar with Toronto, then you likely know about the different cultural regions that both divide and unite our city. We have Little Italy, Little Portugal, Little Poland, Chinatown, Koreatown, Greektown, the Indian Bazaar, and the list goes on, each decorated with flags, signs, posters and more cheering on teams. The bars and restaurants in these area fill up with patrons and eager spectators for games. Some small businesses are even running promotions or decorating store front windows to show their support for the tournament.
The StickerYou Crew also decided to join in on the celebration by adding our own decorative touch to each neighbourhood. Street decals have appeared at key locations within Toronto. On street sidewalks, under benches and beside mailboxes you may come across a flattened arm, extended to wave a team flag. Thus far 5 different decals have been placed, with several more teams to come, another appearing every couple days. Listed below are locations where they can be found.
Many locals have expressed interest and excitement over the new addition to our city streets. Images of the decals have appeared on social media sites Instagram and Twitter. Little branding is done to World Cup street decals except for a small tattoo of the StickerYou logo on the extended arm. That alone has been enough to peak the interest of some store owners who have called to inquire where they might purchase something similar for their own use.
Street decals can be purchased by going to here and then submitting a form to our sales staff who will gladly help set up the order. The street decals are made of a tin material (similar to tin foil, but thicker) so they can conform to any rough surface such as cement, sidewalks, brick, etc. The adhesive has a strong adhesive on the back to hold the decal in place, however it can still be peeled up. This makes the decals great for short term outdoor events or for some inventive signage.