Stickers Lead the Way Home: Q&A With Goldmaki
September 17, 2019
|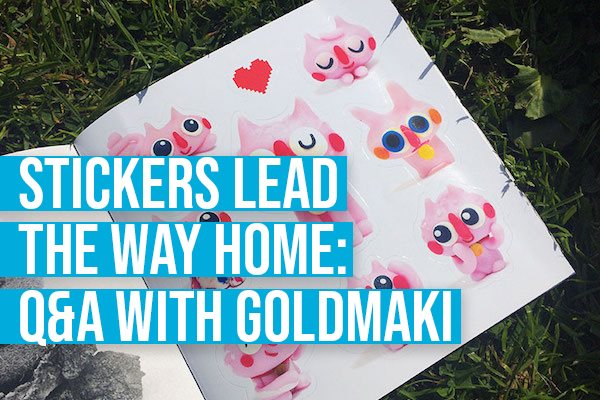 Share this post:
When artist Syl Hillier visited Japan in the late '90s, she used stickers to keep from getting lost, putting them up in places that she would look to as guideposts when she was wandering around the city. Back at her job in an ad agency in Europe, she printed thousands of stickers on the office printer, breaking the machine and sending Syl looking for other ways to make stickers.
How did you get into sticker art?
I always liked stickers, ever since I was a child. I'm fascinated by all the different kinds of stickers – characters, letters and numbers, dots and labels and whatever there is out there! It's fun to stick them up in different places and to customize your things. When I started studying visual communications I got really excited when I found out that there were online printers where you can print custom stickers and that it wasn't so expensive. I started making my own stickers.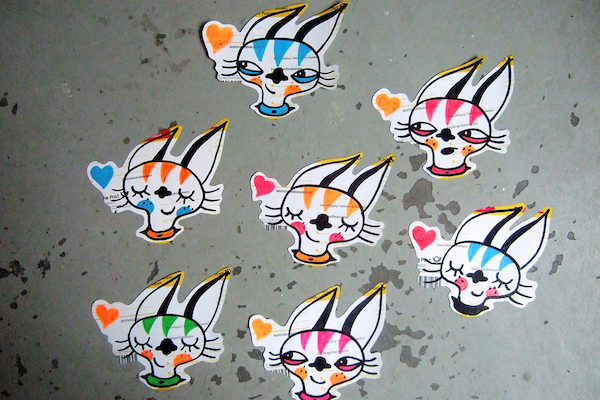 Also, at that time you could get free labels at the post office (to put the address on parcels). I used them to make hand drawn stickers and I stayed after hours and printed thousands of them with computer graphics at an ad agency I worked at. A few weeks later, the printer was broken. I'm not sure, but I think it was me. I don't print stickers anymore at the office since then.
Around that time I got in touch with Dave and Holly, the editors of PEEL magazine. That's when I was quite active putting stickers up on the streets, exchanging stickers and collaborating with other sticker artists around the world. Like the next level of having penpals :-)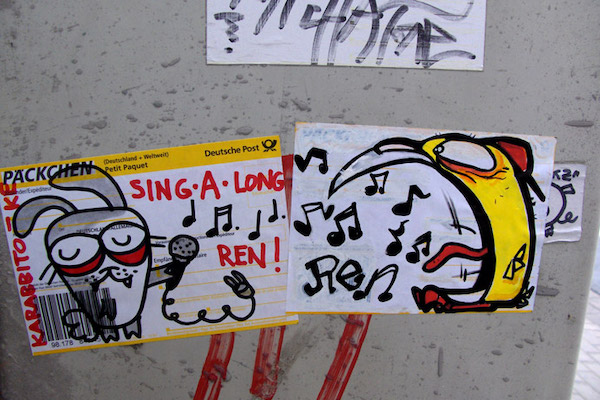 Do you still do sticker art on the streets?
Today I still make stickers and collect them but hardly do the street art anymore.
How did you get started putting stickers up on the streets?
I started putting up stickers on the streets when I started travelling by myself. I get lost easily and can't really read maps. At that time there were no smart phones, GPS nor Google maps ;-) I used stickers to help orient me. You know, like in the fairy tale of Hansel and Gretel – but instead of breadcrumbs I would use stickers to leave a trail back to where I was staying. And the birds didn't eat them!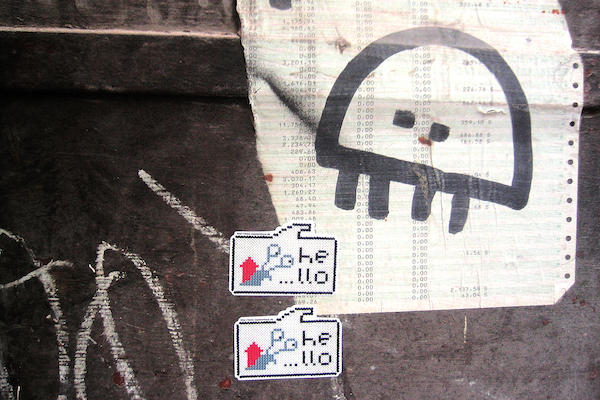 What was the first sticker you made?
I think it was a little anteater character that I hand drew on one of these white labels you can use to label your school books.
Then I started to mass produce stickers. I put various small motifs on A4 sized printable label sheets, printed them out on my inkjet printer at home and cut them by hand (that was before the postal label agency disaster…). But it was difficult to get the backs of the stickers off. I wanted to get the backs off fast and get the stickers up quick because I was paranoid about getting caught.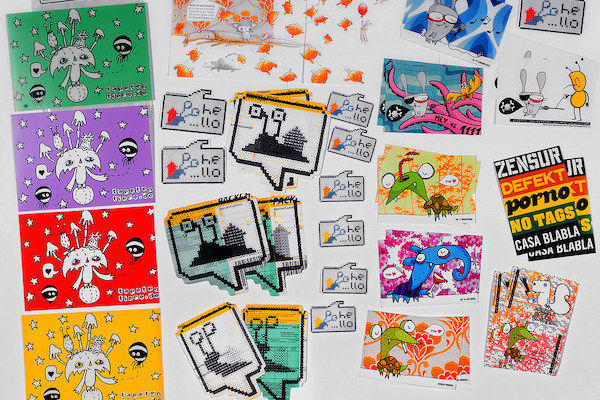 Why did you put stickers up if you were paranoid about being caught?
So I could find my way back! Also, I love having something cool to look at when you are in the public space. That's when the whole street art thing came up for me. Making art public, you don't have to go to a museum to see it. Ideally, you beautify your surroundings and make others smile. Make them think. I like that idea.


What was the most challenging place you ever put a sticker?
At a train station in Tokyo (Japan). I was really scared of getting caught there. People in Japan are so nice and I felt rude putting it up there. But I liked the idea of my character being there. Similar to getting souvenirs from a place that you like, but leaving something behind and taking a photo of it.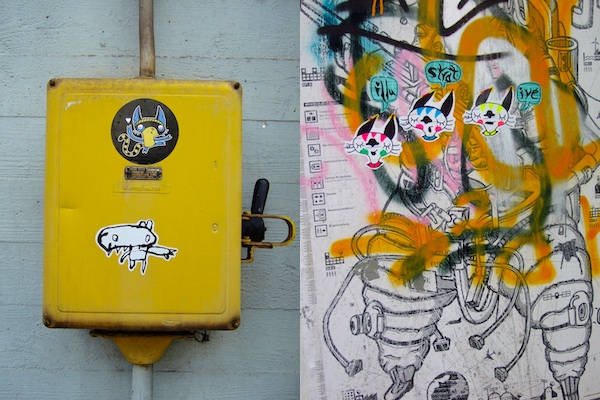 You really like street art. What is it about it that draws you in?
I think it adds another level to the city. It's about communication and interaction, finding the perfect spot for your art. When someone has a message to share or puts something up in exactly the right spot, that meshes with the surroundings and beautifies them, I like seeing that. I think the intention behind the piece of art matters. For example, I often see half-hearted tags or graffiti, I don't like that. That brings up the question of what is beautiful? What is art? Who gets to decide?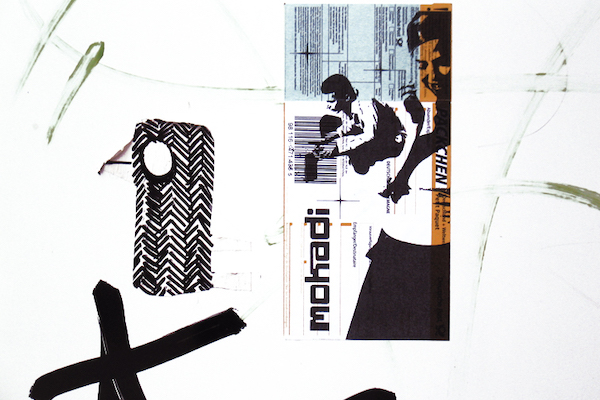 Do you still make stickers?
I do. Recently I started making stickers together with my son (eg. Of clay sculptures we made together). And I made a sticker zine about two years ago with a group of artists called Eggplant Collective – that was a dream come true for me :-)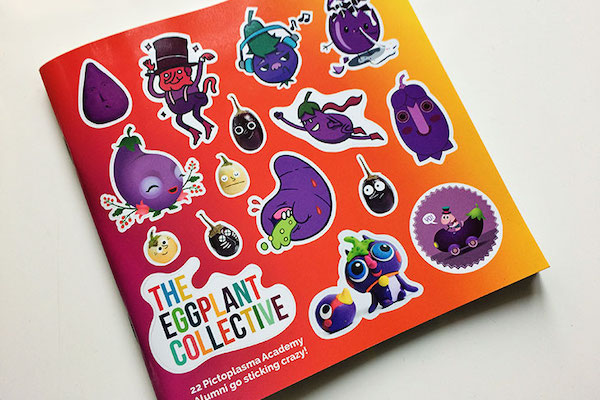 Want more great ideas and inspiration? Follow us on social, or sign up for our newsletter for amazing deals delivered directly to your inbox.
StickerYou blog posts are written and published by members of the StickerYou team at our headquarters, located in the beautiful city of Toronto, Canada.