Top Wedding Temporary Tattoos-You Need to See!
May 23, 2014
|
Can you hear the wedding bells tolling in your future? Is your left hand suddenly much heavier with that huge rock glittering on your finger? Are you tasting cake and sampling main courses, while trying to drop a few extra pounds? Tis the season brides-to-be, and we have a new trend for you to break out for your big day. Wedding tats. You may already be inked like a subway in Harlem, or perhaps you are embellishment free, either way this is a fun idea you won't want to miss. Check out StickerYou's top five custom wedding tattoos, perfect for adding that fun and personal touch to your big day. Best part - you don't have to worry if it doesn't work out, these tats are as temporary as Kim and Kris.
1 Your hubby-to-be has popped the question, so it's time to set a date and make sure everyone is available. These Save the Date tattoos are a fun way to spread the word about your upcoming nuptials.
2 Temporary tats with funny quotes and the wedding date make great wedding favors or swag for your guests. Leave a small bowl at each table and give your guests something to do during the wedding party pictures. Tats like "Ask me how I know the Bride" or "I'm the Groom's _____" make great icebreakers.
3 You have a sense of humor, right? Or maybe a sweet side? Show it off in your wedding pics with temporary tattoos with quotes like "let's do this" and "happily ever after". So cute that in twenty years your teenage daughters will roll their eyes.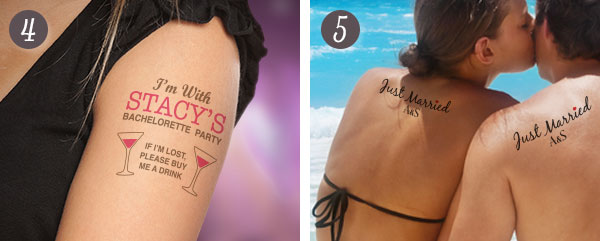 4 Gather your ladies and GBFs, your bachelorette party is going to be a night to remember (or can't remember). But in case any of your entourage gets lost in between bar hops and bathroom breaks, use these tats to ensure everyone has a good time regardless of where they end up.
5 Jetting off somewhere warm for your honeymoon? A few days in paradise is even better when everyone knows you're newlyweds. People love lovebirds on vacation (The Bachelor, Love Island, Love in the Wild, need we say more?) and sometimes you can even score freebies at the resort or restaurant because of it! Use these custom temporary tats to show off your new relationship status the non-Facebook way.
So were we right, or were we right? There is so much fun to be had with NON-permanent body art, particularly around weddings and especially around open bars.