How your business looks can contribute a lot to your success. Professional looking branding can go a long way to giving your business a legitimate appearance. With StickerYou, it is easy to create effective branding for your small business. Whether it is your space, or your products, StickerYou has a way to help you Make It Stick with custom products in Any Shape, Any Size, Any Quantity you need for Any Surface.

Your product packaging is a testament to the quality of the product inside. Make sure your labels look their best with these handy design tips, direct from our in-house design team.
Choosing Your Size and Shape
StickerYou digitally cuts all of their labels. This means that you can order your labels to be any size or any shape you like. You are NOT restricted to standard sizes shapes.
Choosing the right size:
When deciding on the correct size for your sticker or label, it is really up to you how big or small you'd like to make them. We recommend doing one of the following:
1)
Determine where your sticker or label will be placed and then use a tape measure or ruler to measure the surface space. You will need to know the height and the width of this area. Then choose a label size that is slightly smaller than this.
- OR -
2)
Cut a piece of scrap paper or board into the rough size and shape you would like your sticker or label to be. Hold this piece or paper or board up to the product surface where your sticker or label will be applied. If the piece of paper is too big, continue to trim around the edges until it is a a size you like that fits the product surface. Measure this piece of paper with a ruler or measuring tape.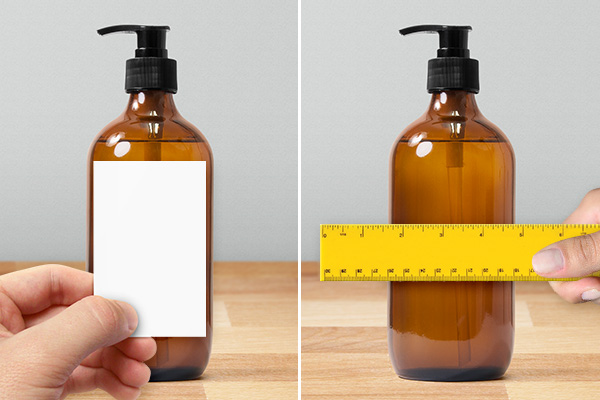 Choosing the right shape:
When choosing a label shape, you need to consider where you will be applying the sticker or label. If you are applying the sticker or label to a product package or container, this will affect which shape you choose.
• For round lids, we recommend round labels.
• For the sides of containers or jars, we recommend rectangle labels. For unique shaped- packaging, you could use any shape.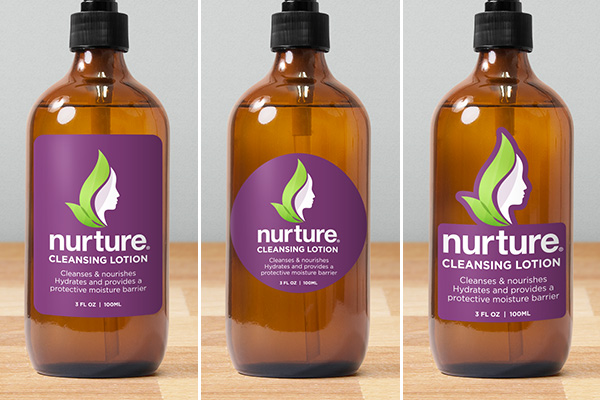 Choosing Your Materials
StickerYou offers a variety of material for custom printed labels, including
white vinyl
,
clear vinyl
, and specialty labels (foil,
scratch n sniff
, etc). When choosing your label material, it is important to be aware of their different capabilities, to ensure you choose a material that will hold up to your needs and continue to look great.
• White vinyl and clear vinyl are both waterproof and removable. However it is important to note that they will look different on different surfaces. We recommend clear vinyl for lighter surfaces or glass and white vinyl for darker surfaces.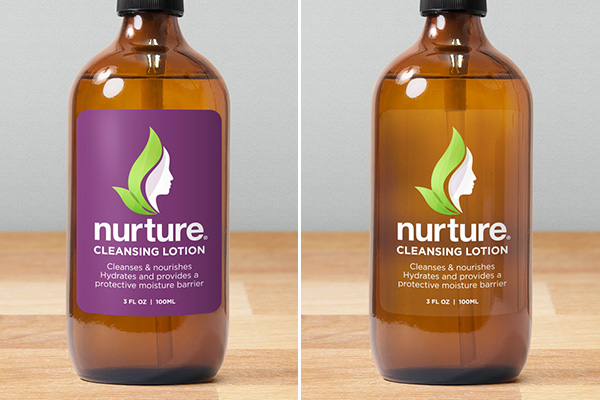 • Roll labels are best for larger order quantities (+250). If your product will remain dry, then choose a
standard roll label
. If you need a more durable, waterproof label then choose a more
durable BOPP custom label
.
• Specialty labels typically have a variety of different capabilities and benefits. Make sure you familiarize yourself with their best uses so you choose the right label type.
Choosing Colors
When combining background colors and text, we recommend using a design tool to find colour combinations that compliment each other.
If you are a new to designing labels, we recommend using this blog article on
100 Brilliant Wedding Colour Combinations
.
If you are an experienced designer, you may find
Adobe Kular
a great tool for building color schemes for your labels.
For best printing results, please avoid:
• using thin light colored text on dark backgrounds
• using dark colored text on dark backgrounds.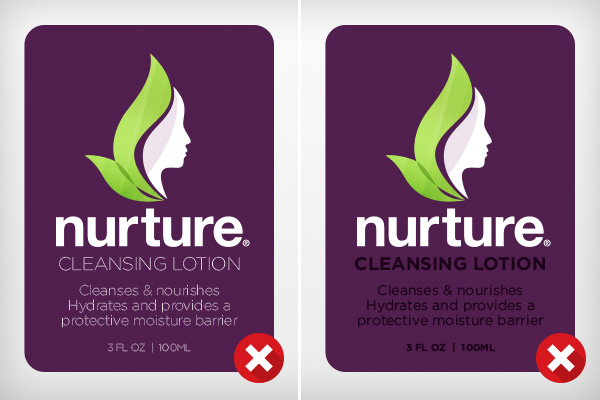 Choosing Fonts
When choosing typefaces or fonts for your labels, be a little creative. Stay away from over-used fonts like "Comic Sans", "Arial" or "Times New Roman". There are a lot of websites which allow you to download fonts for free, like
DaFont.com
or
1001FreeFonts.com
.
When adding text to your labels, you will get the best results if you stick to 1-2 different fonts that compliment each other. Too many different fonts creates a very messy look.
Choosing Images
Adding images, logos or icons to your label is a great idea. However, you need to ensure the image has a high enough resolution, otherwise it will print blurry.
We recommend a resolution of between 150-300 dpi. If you are downloading images from the internet, make sure you use larger images for large labels.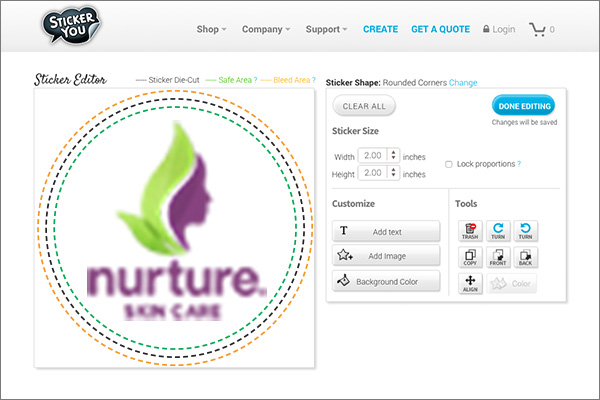 Choosing Your Background
When creating your background, be aware of the cut line where your labels will be cut. It is important to extend your background color or design past the cut line. This is called the "bleed". Creating a bleed will give your label a cleaner look and will prevent thin white edges from showing if the cutting machine slips a little bit.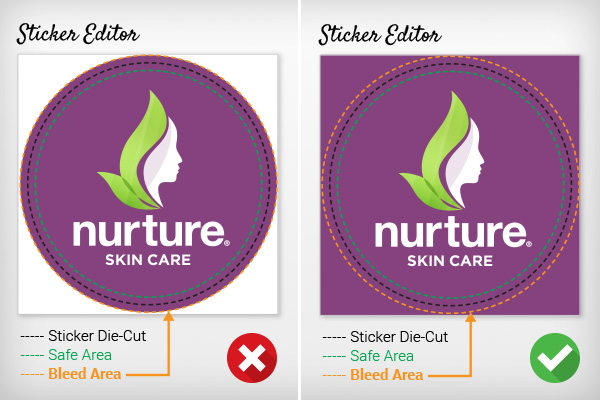 Please note: Cutting machines are fairly accurate, however no machine in the world is 100% accurate 100% of the time. Usually slipping of the blade is barely perceptible, but creating a bleed will help protect your design regardless.
Design your labels in a slightly lighter, less saturated colour. Your computer screen is back lit, which causes colors to look brighter than they will appear once printed. If your labels have really dark tones or shades, they may not appear as colorful once printed.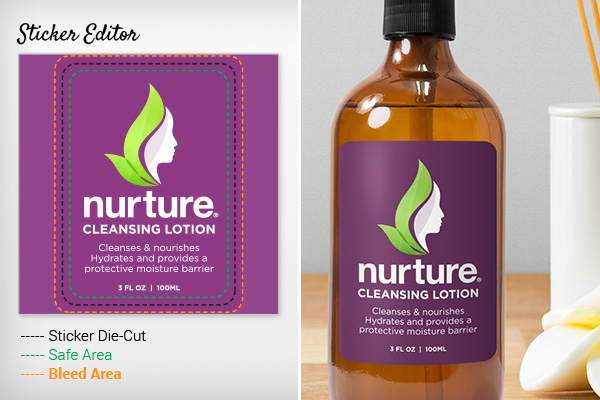 Curious about our products? Request a free sample pack to try before you buy!
For even more DIY home decor, branding, and life hack ideas, check us out on Facebook, Twitter, Instagram, Pinterest, Google+, and YouTube.
Get other great ideas, inspiration and sweet deals delivered right to your inbox by signing up for our newsletter here.