Design Without Limits
August 3, 2021
|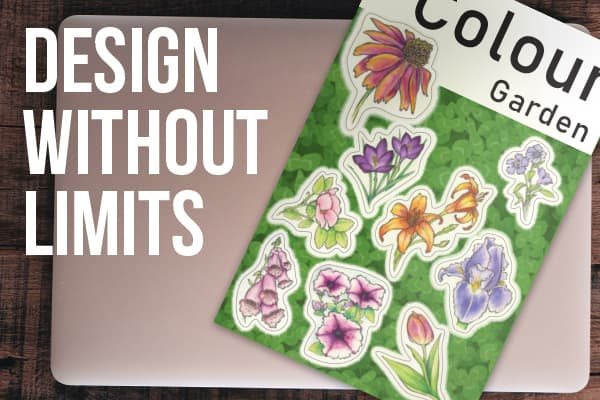 Share this post:
What are you passionate about? If there's a message you'd like to put out into the world - what would it be? Say it all with our customizable sticker pages.

At StickerYou, we aim to give you the ultimate freedom when it comes to customizing your products and creating stickers that are personal to you.

Explore the ability of printing as many different images, shapes, and sizes as you'd like, and order personalized sticker pages in any quantity. Here are some ways our customers are using them, it's time to get inspired!


Stay motivated with stickers (Customer: Laurie V.)
Keep yourself aligned with your goals and mantras, and push yourself to reach new milestones! Motivational messages are the perfect accent and decoration for all of your personal belongings.

For example, you can create a page of various sticker designs that speak to you, and turn your plain notebook into a vessel or determination! Every time you go to take notes or jot something down, you'll remind yourself to stay determined and live your best life.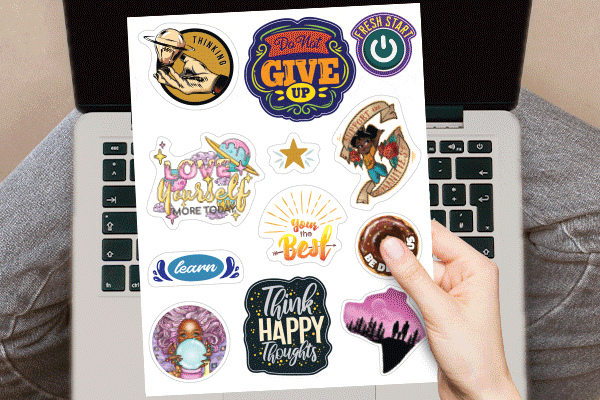 Showcase your artwork and talent (Customer: Emilio M.)
Stickers are one of the best ways to showcase your talent, especially if you're an artist or illustrator! Simply upload your artwork to our Sticker Maker, and create customized pages filled with your various art files.

Using these stickers, you can decorate anything you'd like, and begin building awareness and spreading the word about your art. Think of it like an art portfolio that follows you everywhere you go!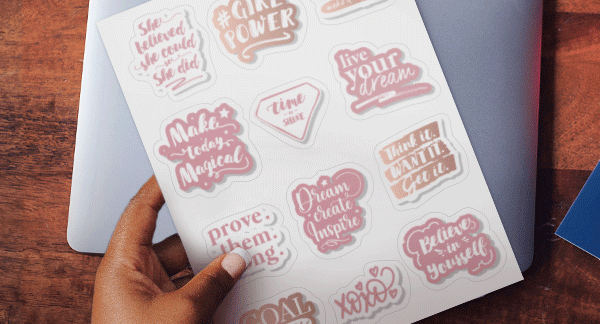 Stick with a common theme or element (Customer: Ayla G.)
Establishing commonality on your sticker pages makes it that much easier to decorate your fave belongings! Consider selecting one art "style" or "aesthetic", and reference that when selecting the designs you want to print.

When it comes time to stickerbomb your water bottle, notebook, laptop, or anything your heart desires, you'll be left with a cohesive vibe throughout your masterpiece!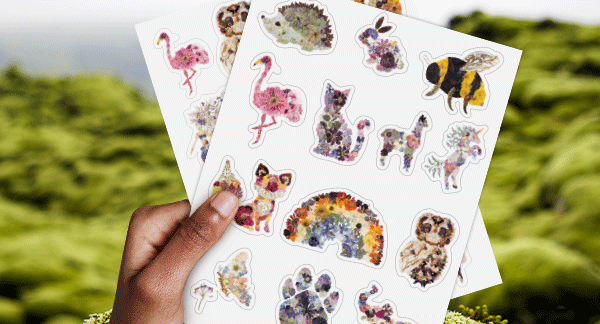 Make a fun activity with your kids (Customer: Luke D.)
Got some kids or people that love crafts in your life? Sticker pages are the perfect DIY activity. If you don't have your own art files that you'd like to print, check out our art bank full of different images you can leverage, based on different categories and keywords!

Make the ordering process fun by designing your pages together, and let the little ones select some of their favorite designs - they'll be that much more excited when your custom creations arrive at your doorstep.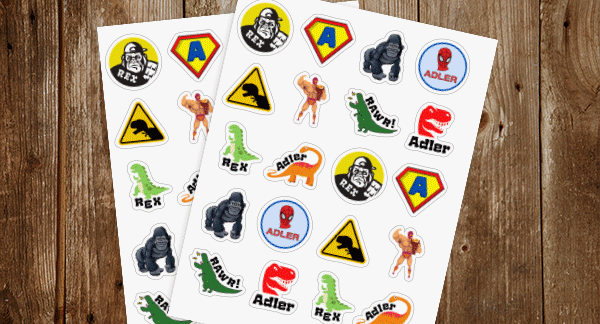 Create custom reminders (Customer: Leanne B.)
Know your worth, push yourself, do one good thing each day! Reminders help us maintain our focus, and push ourselves to achieve our goals and dreams.

Sticker pages are the perfect product for creating customized reminders, catered to your passions and desires. Stick these reminders anywhere you'd like, and they'll keep you on track for years to come.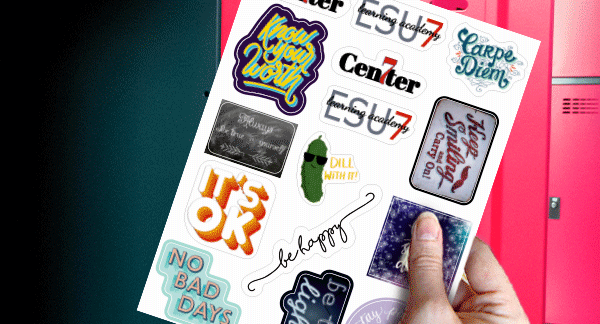 Want more great ideas and inspiration? Follow us on social, or sign up for our newsletter for amazing deals delivered directly to your inbox.
StickerYou blog posts are written and published by members of the StickerYou team at our headquarters, located in the beautiful city of Toronto, Canada.