Don't Miss Out on These Embellishment Options
September 3, 2019
|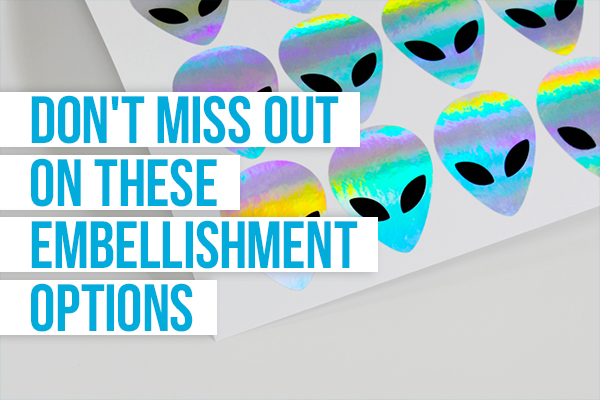 Share this post:
When it comes to creating custom products, we at StickerYou are continuously expanding and improving our products to make your custom stickers and labels even better. We are excited to offer some amazing embellishments options to make your labels and stickers as even more extraordinary with a little bit of flare. Send StickerYou's sales team a message and they would love to help hook you up with the coolest and most innovative sticker options around. For most of the embellishments options there is a required minimum order of 250, but with these impressive options you will want as many as possible! This blog post will outline some of your embellishment options and provide some ideas for how you can incorporate them into your labels and stickers.


The Rad Holographic
For those who are looking to make their stickers groooovy, holographic stickers are the far-out embellishment option for you! By choosing to make your artwork holographic, your sticker will look shiny and 3D! As the sticker moves around, a rainbow will appear and dance in the light! This is undeniably a fun aspect to add to any packaging of a fun product (cough couch, especially marijuana companies, cough cough) but it is also a great way to make an otherwise ordinary sticker of your company's logo into a rad-collectable on someone's laptop.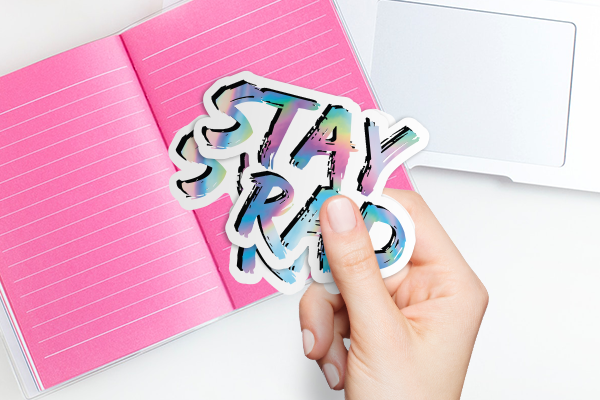 The Glamorous Iridescent and Reflective
Similar to holographic embellishments are our iridescent and reflective sticker papers. Iridescence describes when paper looks shiny and usually silver, but when it catches the light the right way, it lights up with a full rainbow. It's like a sticker mullet, business in the shade and party in the light! The reflective sticker and label paper lets you print your design on a mirror-like paper. This a unique way to make your stickers and labels stand out, especially on beauty products where the label can work double purpose as a mirror. Both of these embellishment options are a perfect way to give your stickers and labels a cool modern look or to use more subtly to flawlessly incorporate a bit of eye-catching flair into any design.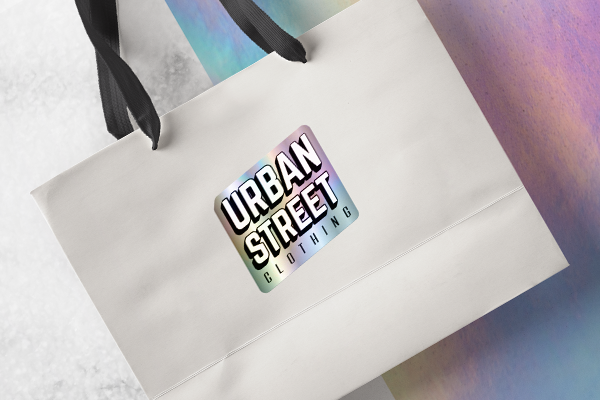 The Sleek Foil
Metallic foil labels are eye-catching, lavish, elegant, and can give labels a premium look. If you want to include a metallic touch on your stickers or labels, you have a few options to choose from; you can use metallic paper for the base of your label or have your design printed with metallic ink, or dare I say both! The metallic foil is water resistant, durable and can be gold, silver or tinted any color of the rainbow. Like all of StickerYou's products, metallic labels and stickers are durable and can be die-cut in any size and shape. Metallic stickers and labels are a great eye-catching touch with a refined look for any label or sticker, drawing the attention your product deserves. Another popular use for foil stickers are closing chocolate boxes or fancy stationary with your company's logo or institution's emblem.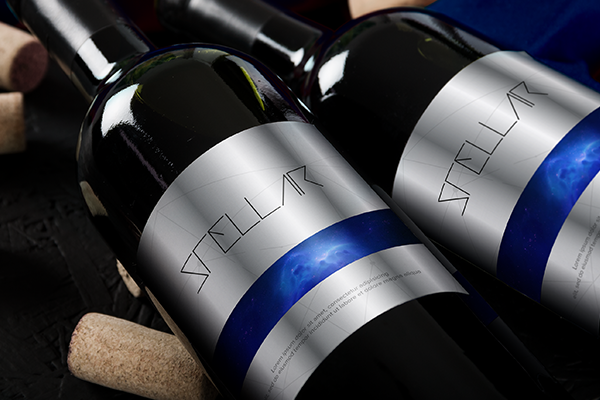 The Bold Scratch and Sniff
Remember your scratch and sniff sticker collection? We never stopped collecting at StickerYou! We are proud to boast about the 130+ smell options we can offer to enhance your stickers and labels. How is there 130+ smell options you ask? Well, we have all the standard great smells for foods, candles and air fresheners, but then we also have some unexpected scent options, like manure, racing fuel and sausage. I bet you would have the only scratch and sniff chilli label on the market… just saying. Check out the full catalogue to see what smells we have that will suit your needs. There are so many great uses for scratch and sniff stickers, but here are a few ideas to get your creative juices flowing. First, obviously product labels! If you have your own line of smelly goods, give your customers a sneak peek with a scratch and sniff scented label. Good smelly labels could include essential oils, body washes or vape juice flavors. If you are handing out stickers as a brand give-away (read why stickers are the best give away here), make them smelly to increase the likelihood that they will end up somewhere important. If your making fun stickers for a children's event, or for children-at-heart, make sure you have the 'coolest stickers ever' because your stickers have unexpected smells like money and soap.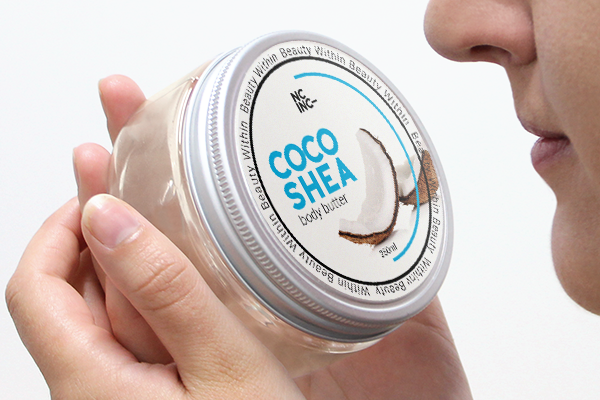 The Brilliant Glow in the Dark
Some residual childhood fascination is left in all of us for stuff glowing in the dark. Most people still can't pass anything that claims to glow in the dark without immediately trying to block the light out with their hands to see if it works. Harness this fascination of glowing in the dark for your stickers and labels to draw more attention to them. This would be great for sticker handouts or to label any product that needs to stand out in the dark cupboard. Glow in the dark stickers are not just cool to have, but can also be a practical safety tool to see information in a dark setting like a theatre or outdoor night event. Glow in the dark arrows may make the difference between finding the coat closet and finding the bathroom.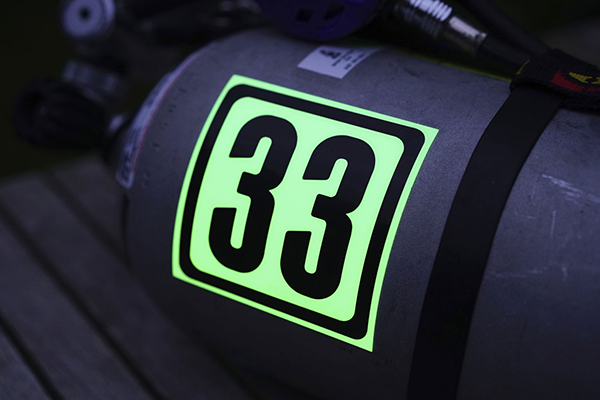 Glaring Fluorescence
Fluorescent colors are commonly used for high visibility safety vests, so harness the attention grabbing effect of fluorescent colors by printing stickers and labels on fluorescent paper! This would be great for any information you need to draw attention to, like your businesses well deserved awards or the fact your product is allergen free.


Luxuriously Embossed
They call it embossed for a reason- they will make your labels look BOSS! Embossing is the process of raising or indenting the paper where the text or design is. This elegant look can have similar uses to the foil labels but with a less flashy finish. It's a great material to match your elegant product or design.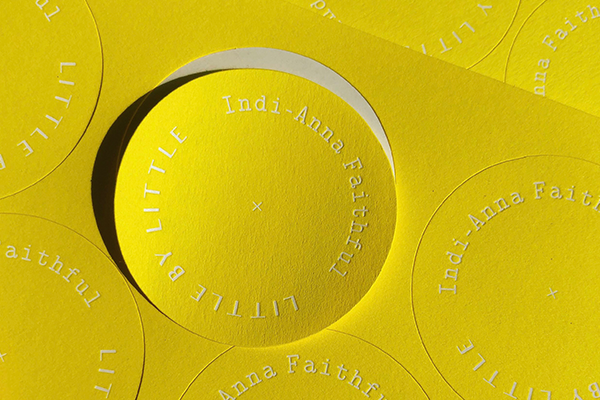 The Vigilant Tamper Evident
This embellishment option is more practical than decorative, but who says stuff can't be both! You don't have to worry about your product being tampered with before it reaches your customers when you use StickerYou's tamper evident labels protections. There are two options, the first is a Void Tamper Evident Sticker will leave a 'void' mark if the label is tried to be ripped off, making any tampering of the product obvious. The second option is a thin strip of paper that will have to be broken to open the product, making it obvious if the product has been opened since its production. Using tamper evident labels on your food or beauty product will give you and your customer peace of mind so it's worth having there just in case.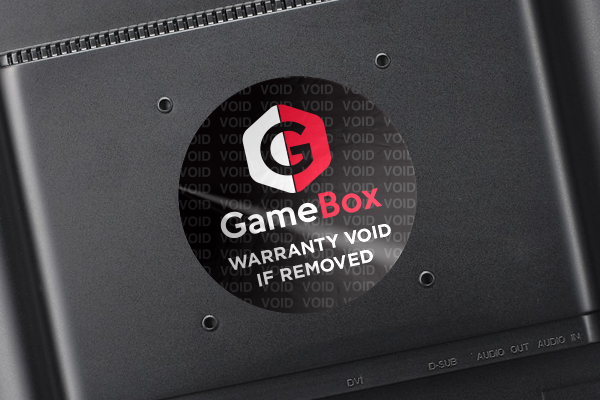 We hope these embellishment options have inspired you with ways to make your custom stickers and labels even more fabulous. As always, we can't wait to see your ideas and help make them a reality.
Want more great ideas and inspiration? Follow us on social, or sign up for our newsletter for amazing deals delivered directly to your inbox.
StickerYou blog posts are written and published by members of the StickerYou team at our headquarters, located in the beautiful city of Toronto, Canada.