Find the Right Product Labels for Your Packaging!
May 9, 2016
|
Labeling your products can be pretty overwhelming with all the options available out there. To find the right labeling material for your needs, you should probably be asking yourself questions like:
How permanent do I need these labels to be?
Do I need them to be waterproof?
Will they be going in the dishwasher or microwave?
Do I want labels with a glossy or matte finish?
Are these labels durable enough to withstand outdoor use?
To make your life a little easier, we've created a handy chart so you can choose the right StickerYou personalized labels material for your packaging needs: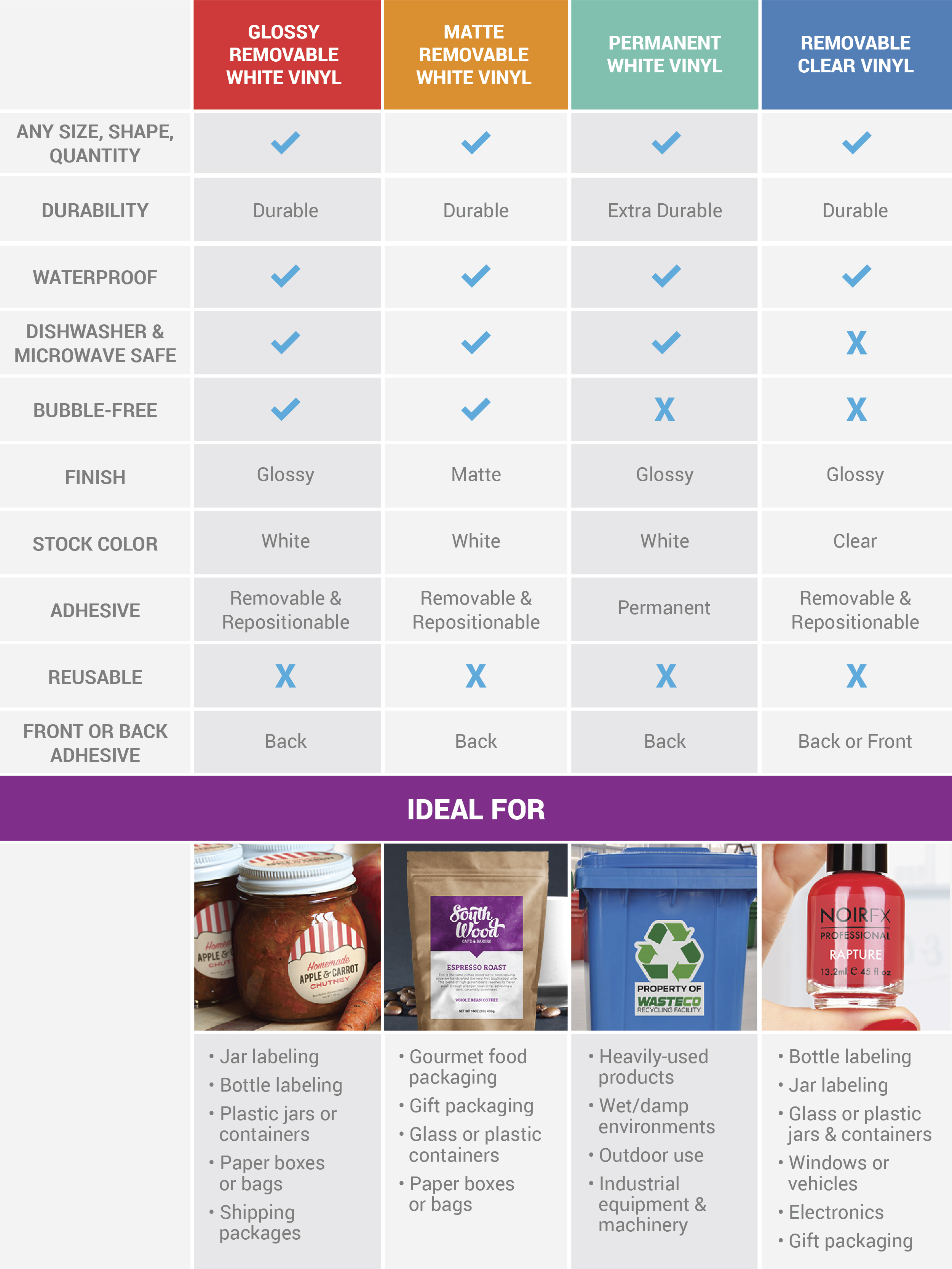 Repositionable vs. Reusable
Repositionable labels means the labels can be peeled up and repositioned if necessary. This is only possible immediately after the label has first been applied and can only be done once or twice before the adhesive wears out. Reusable means labels can be peeled up and re-applied multiple times on different surfaces.
How to Select Your Material
Once you have designed the perfect label in our Label Editor, click the blue Done Editing button. Now you can select your label material!

In the order details, navigate to the "Material" drop-down and you will see all of the available material options. Select the material that fulfills your packaging requirements based on the features in the above chart and then specify your other order details like label quantity.



Note: Most of our labels are printed in pages. If you would prefer your labels be printed on rolls, or need to order more than 250 labels, check out our roll labels.
Still unsure which of our materials will work for you? Read more about our other great materials and StickerYou product quality or request a free sample pack to try before you buy!
For even more DIY small business, branding, and life hack ideas, check us out on Facebook, Twitter, Instagram, Pinterest, Google+, and YouTube.
Get other great ideas, inspiration and sweet deals delivered right to your inbox by signing up for our newsletter here.