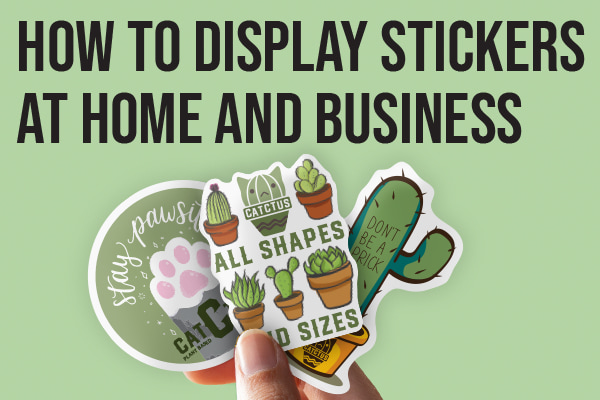 Stickers are highly versatile and aesthetic, enjoyed by people of all ages. Chances are, you were an avid sticker collector at one point in your life — probably until now. But if you're hiding your stickers in a container at the back of a drawer, you're not giving them the spotlight they deserve.

Show off your stickers by displaying them in your home or place of business. Here are some creative ideas to flaunt your sticker collection.
How to Display Sticker Collection Creatively?
There are plenty of more creative ways to showcase your collection.
- Create a Custom Frame
- Display Stickers on a Canvas Board
- Display Stickers on Wood
- Display Stickers on Metal
Where to Place Sticker Collection?
There are plenty of places you can store your sticker collection, whether with or without backing paper. If you want to keep the backing paper intact, you can keep the stickers in a scrapbook or album, bulletin board or corkboard, keepsake box, or shadow box.
Alternatively, you can stick your collection onto your favorite items, such as your luggage, laptops, notebooks, or desk, for the world to see.
How to Organize Your Sticker Collection?
You can organize your sticker collection by storing them in a sticker album or binder, sorted by theme, color, or type. You can even label your stickers to make it easier to keep track of them or create a catalog with information about each sticker.
How to Display Stickers on the Backing without Peeling Them?
- Hang Them on a Clothesline
- Get a Spinning Display Stand
- Use Hanging Tabs
- Go with a Classic Sticker Book
- Place Them in a Bowl
How to Store Your Sticker Collection?
Storing your sticker collection shouldn't mean simply putting them in a storage container and tossing them in a cabinet. You need to consider a couple of things to make sure they stay in good shape.
As a general rule, make sure your stickers are stored away from sun and moisture. An album or binder that doesn't react to acids is a good choice, ensuring that chemicals and harmful substances don't get on your stickers.
What Can I Do with All My Stickers?
- Decorate Your Phone & Laptop
- Decorate Your Notebook or Planner
- Decorate Your Water Bottle
- Decorate Kids Lunch Box
- Turn Them Into Magnets
- Consider Scrapbooking
Conclusion
Stickers make for an easy way to customize your items or decorate your home or business. There are plenty of ways to display your unique designs for all the world to see and appreciate. Take ideas from our list and give your stickers the spotlight they deserve.