Making What Matters Stick: Q&A with Rodger BECK
December 25, 2018
|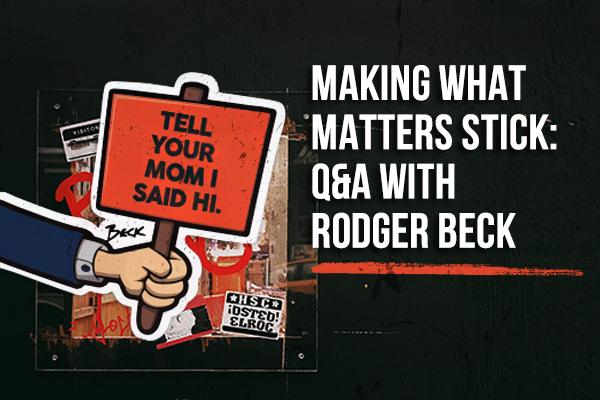 Share this post:
Toronto-based sticker artist Rodger Beck's work made the news when his sticker of then-mayor Rob Ford appeared one night by the Rogers Centre in the city's downtown core. Since then, Beck has developed an avid fan base for his stickers, and recently was the designated artist for this year's Karma Cup. We caught up with Beck to talk stickers, graffiti, tattoos, and why pizza is the ultimate metaphor for individual creativity.

If you haven't already, check out Beck's awesome stickers available on our new website, StickerYou Store!
What got you started with stickers?
Back in 2012, I saw a Lovebot sticker in the subway station on Queen Street. Lovebot is this cement, blocky sort of robot with a heart in its chest. It was a private moment for me, and when I saw that sticker, it was kind of hidden away. I knew I wanted to be a part of that hidden little world. That's when I started making stickers.

My girlfriend at the time (now my wife) told me about a co-worker who grew a beard and his nickname at the office was 'the Mexican lumberjack'. Inspiration hit. That was the first sketch in my book.

If I saw a Lovebot sticker, I'd put my Beck sticker beside it, like we were friends. I put a few of those images on Instagram, and it turns out the creator of Lovebot and I had a friend in common. I ended up connecting with him and working with him. I was a project manager for Lovebot for a few years. I actually used Lovebot as part of my Waldo series.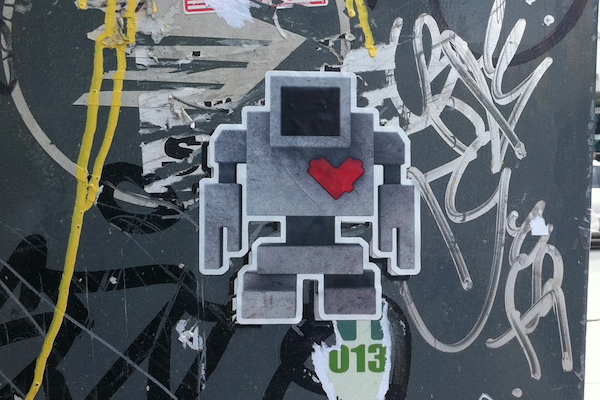 What was so appealing about the sticker form?
I had drawn cartoons as a kid, and then I went to school for film. I left the art world for a while, then came back to it and started drawing goofy characters. Anthropomorphic stuff. I loved the idea of putting this art up in public, but in hiding them in certain places so that only certain people would see it. And you didn't have to pay a ton of money or get into a gallery, you could just leave it for someone to smile at pretty much anywhere.
What was the first sticker you put up?
One of the first was Earl The Angry Squirrel, based on a sculpture I made. I'd never done graffiti or street art before that. I remember feeling nervous that I would get caught. There was a little rush, like "Aha! I did this thing I wasn't supposed to do!"
You made the news for a Rob Ford sticker. What happened there?
It was actually somebody at StickerYou who put it up. When Rob Ford was caught smoking crack, I made a sticker of him holding a sign that said "Will Mayor 4 Crack." It was part of my I Love TO sticker pack series. Someone at StickerYou said "let's make a big one and put it up in public." They put it up in the middle of the night by the Rogers Centre. Four feet tall. It made the news. By the time I made it down there two days later it had mostly been ripped down, but my signature was left. I kind of like the irony of that. I have an audio clip of the news piece. If I ever do a documentary about my sticker art, I'm using that.

There's a couple big Doug Ford stickers that should be hitting the streets soon, too. I'm not even political, there's no specific commentary; I just like the idea of giving someone a quick laugh and then them moving on with their day.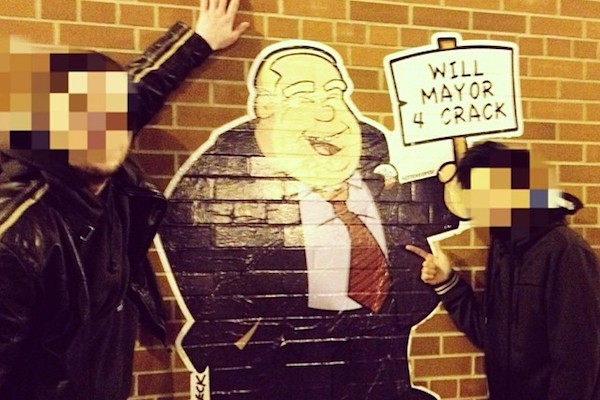 Is there a link between stickers and graffiti?
I think there's definitely a link in the sense that you're putting your work out there for everyone to see, absolutely everyone. It's not hidden in a museum. There's a rush to it, like it's something you shouldn't be doing. And it's pretty inexpensive to get into. But the big difference I see is that graffiti artists - at least in the subculture of tagging - want to get up, stay up, make a name for themselves despite public perception. All over doors, walls and windows. It can seem selfish, careless and inconsiderate. While I'm making a name for myself with my stickers, I always do it for other people to enjoy and try to be respectful of where I put them. I'm not trying to piss anyone off.
Who are some of the sticker artists you admire?
One of my Toronto favourites is T-Bonez (@urbanninjasquadron). He puts his ninja characters in funny situations and collaborates with a lot of other artists. A lot of my cartoon inspirations are also graffiti artists. Poser does bunnies, Uber5000 does little yellow bird characters. Whimsical stuff, cartoony. I watched Uber live-painting a mural at Karma Cup. To watch as all of the little details came to life was pretty cool.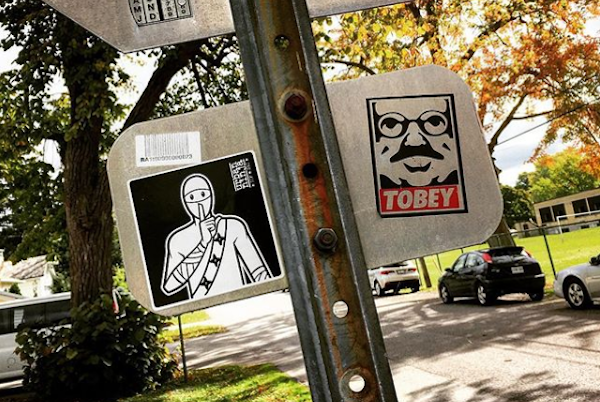 You were at The Karma Cup?
I was the designated artist for Karma Cup this year. I have lots of friends in that industry and Sarah, who runs the Cup, invited me to design the poster this year. That led to flyers, ads, banners, etc for the whole event. It was a pretty cool experience.

When weed is legal, all these regulations will come into play. You can't use cartoons to advertise marijuana, so I'll have to use my work elsewhere. But I probably won't turn down work from the black or grey market.
What makes a great sticker?
Even if you're making it for another audience, make sure YOU like it. I have a theory about creating work in general. It's my Pizza Theory. Whatever work you do, whatever your craft is, that's your pizza. You can borrow other elements, borrow toppings from others, but make it the way you like it. If you make it the way you like it, you'll always find other people who like that, too. I think I'm going to print that on a shirt. "Share your pizza. Everyone's hungry." Share what you're passionate about, and others will like it. Some people might say, "Fuck that thing, you suck!" But that's ok. Your pizza isn't for everyone.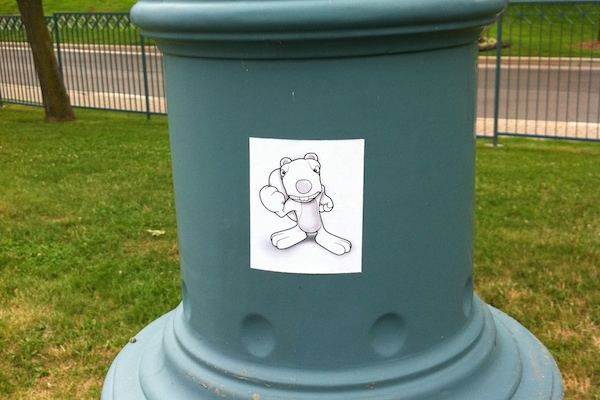 What's next for you?
I always have too much on the go. All of my projects are 'side projects' which adds up to being too busy. I bought a heat press to press vinyl on shirts, but that took away from cartoons. Now it's collecting dust. I'd also like to do some large-scale work and blow my characters up really big. I have a lot to learn when it comes to graffiti but I'm eager to branch out. I just need to have realistic expectations. A couple fans even have Beck tattoos and I thought, "How cool would it be to ink my own tattoos??" but I quickly realized I couldn't possibly dedicate myself to it full-time.

People have been asking me to do a monthly sticker subscription series, which would be fun. It's always a juggling routine. I'm grateful to have clients but I want to make more of my own pizza as well, y'know?
Want more great ideas and inspiration? Follow us on social, or sign up for our newsletter for amazing deals delivered directly to your inbox.
StickerYou blog posts are written and published by members of the StickerYou team at our headquarters, located in the beautiful city of Toronto, Canada.