Make Your Tailgate Party a Touchdown
August 20, 2019
|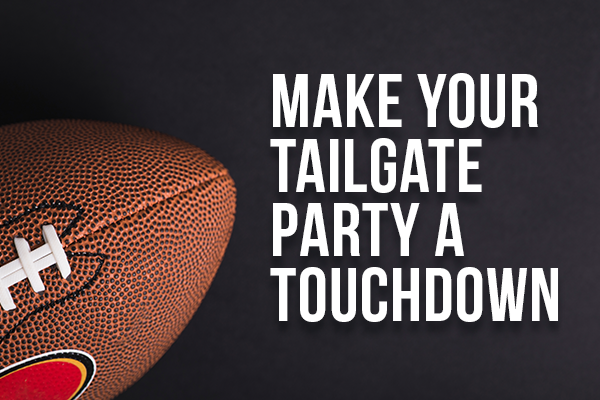 Share this post:
Football season is approaching, or should I say tailgating season, with this fall kicking off the 100th season of the NFL. Tailgating is an integral part of American culture, and whether you are cheering on your university or NFL home team, rivalries are set aside for the shared enjoyment of great food, making new friends, and sure, perhaps a little gamesmanship. Over the past few decades, tailgating has progressed from a quick pre-game hot-dog and beer in the parking lot into a grand celebration with a smorgasbord of irresistible food and die-hard fans. This season, take your tailgate party to the next level by customizing your tailgate area with extravagant team emblems worthy of a Super Bowl halftime show.

With StickerYou's wide variety of custom embellishments for all your gear without the burden of a minimum order, make every component of your tailgate party a part of the celebration. What ordinary objects at your tailgate party are not displaying the team pride that they should be? Does your grill look gloomy? Does your van or pickup truck not have enough team spirit? Instead of buying new team-brand licensed gear, save your beer money and get creative by designing personalized professional quality stickers and decals to adorn the stuff you already own. There's no better way to start the day off than by turning heads as you pull up in the coolest truck, claiming your usual spot to put on the best and most spirited tailgate party in the lot.


Deck Out Your Truck
Since your truck is the center of your tailgating party, make your truck a part of the party. Upgrade from that store-bought, standard bumper sticker that everyone has and customize your own, or even better, make a bold statement by customizing your entire truck. Using clear vinyl car decals, show tribute to your team by displaying your team's logo across the side doors, or personalize a life-sized sticker of your favorite player peeking out of the back seat. The possibilities are as numerous as your favorite player's touchdowns. These vinyl stickers are durable and UV-resistant, ensuring that the colors won't fade even on the sunniest days! When the season is over, remove the decals without residue and your truck will look like it had never been stickered up. If you can't convince your family to agree to a long-term truck makeover, the same effect can be achieved by using customizable magnets that you can stick onto the car before the game, remove after and re-use every weekend.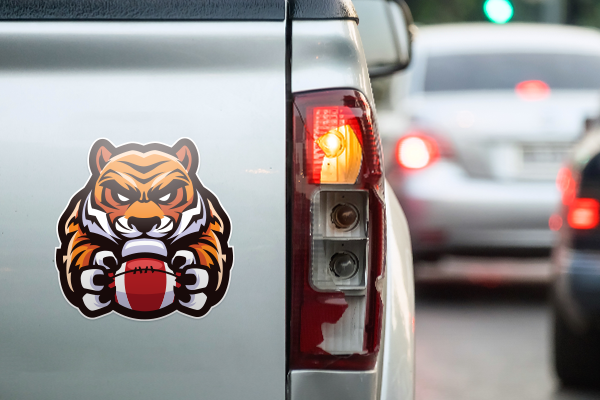 Deck Out Your Location
Make your whole space look like a party with decorations that are as functional as they are festive. Mark your territory with a pop-up tent or umbrella to keep your party going rain or shine. Turn up the music, raise your team's flag and show every fan present where the party is at. To enhance the space even more, lay out a fun vinyl outdoor street decal over the pavement. This will not only fortify your claim on your party area but can also be customized with any design, such as yard lines, victory dance steps, hopscotch, or party "rules". These street decals are easily applied to rough surfaces, like asphalt or concrete. They're durable, anti-slip, and water and heat-resistant.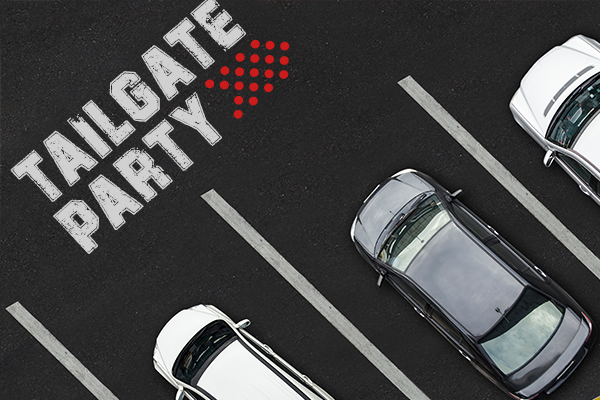 Deck Out Your Gear
There are so many possibilities when using sticky products to spruce up run-of-the-mill objects - so long as something has a surface, you can probably use sticky stuff to dress it up with team spirit. Here are just a few ideas to get you started:

Create custom heat-resistant vinyl lettering or a vinyl sticker to affix to the lid of your grill. Imagine if your plain kettle grill was garnished with vinyl lettering that read "Delicious Food is Grilled Here for Buckeye Fans Only" or if it were branded with a caricature of your team's best player snacking on your famous brisket. Your stickers will be durable enough to withstand your hardcore BBQing in the rain and heat-resistant enough to ensure it will make it through multiple seasons worth of tailgating.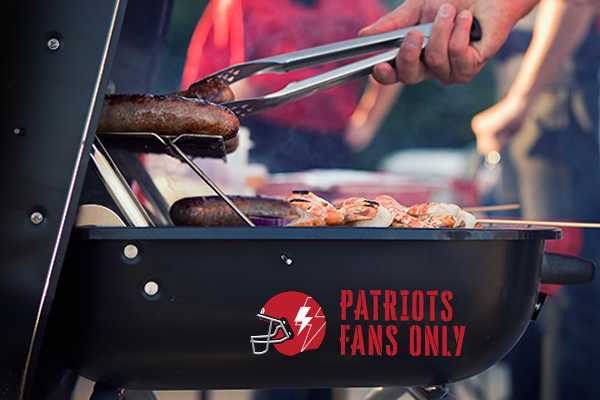 If you're enjoying a keg at your celebration, why not slap a custom magnet on it? Like the light-weight magnet for your truck, this is a great non-permanent decoration that you can re-use over and over, keg after keg.

Keep losing track of which drink is yours? Stick some custom writable labels onto your cups! They can be team-themed alongside all of your other decor, but the writable aspect makes them even more customizable and offers great flexibility. The same labels will also be perfect to label beverage-sharing containers, so you'll never again mix up the regular coffee thermos with the decaf one!

Turn the top of your folding table into a party game with an official beer pong setup decal customized to your table size. The decal will ensure your beer pong battleground is the coolest in the lot! It's durable and easy to wipe clean so you don't have to worry about spills. Might as well put that table you're already packing to good use!

Personalize your cornhole game with a custom cornhole decal. It's a great way to make your cornhole look amazing and be team-branded, and nicely adds a non-slip surface for your bean bags.

Are you part of your favorite team's traveling fanbase? Personalize your cooler with a stickerbomb representing all the places you've traveled to for games. A sticker bomb is a collage of all different stickers, which is a fun way to track where you've been and gives you the opportunity to keep adding more stickers as you travel to new places all while showcasing your super fandom.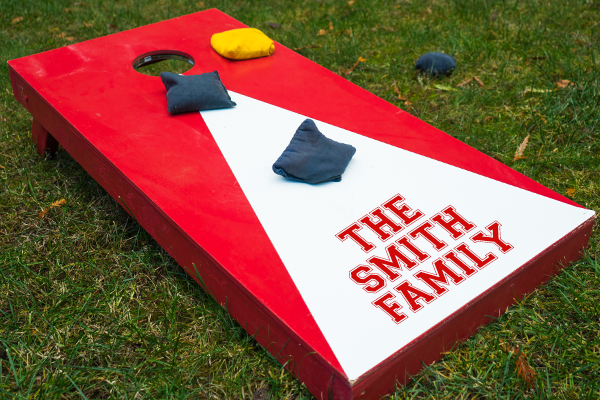 Deck Out Your Body
Complete your game day upgrade with a personalised outfit. You can design your own team merch with a custom solid iron-on and sport a shirt that nobody else has. Likewise, join the team by adding your name on the back of your shirt with iron-on lettering transfers. Iron-on lettering is easy to apply, looks professional and is safe to throw in the laundry with regular clothing. If you are tailgating in colder weather, don't cover up your team spirit with a plain coat. Easily iron or sew on a custom canvas patch onto any coat to stay spirited during the coldest games. Patches can be printed using full color and have a stitched border, improving durability and creating a polished look.

Temporary tattoos are a great alternative to face painting and now you are no longer confined to pre-made temporary tattoo packages. Customize your own temporary tattoos to show your true game face. Unlike using face paint, you can now achieve any custom design you want - no more sacrificing 30 precious minutes sitting still. A temporary tattoo can be applied to your face yourself in less than 30 seconds. Moreover, when sweat and rain are causing other people's face paint to drip, smear and just melt away, your designs will remain intact throughout the whole day. They are safe, simple to apply and easy to remove with baby oil or rubbing alcohol (or whatever alcohol you so choose).

There are so many more possibilities for customization! We can't wait to hear about your ideas and see your designs as you throw a tailgate party so great that even the team will want to crash it.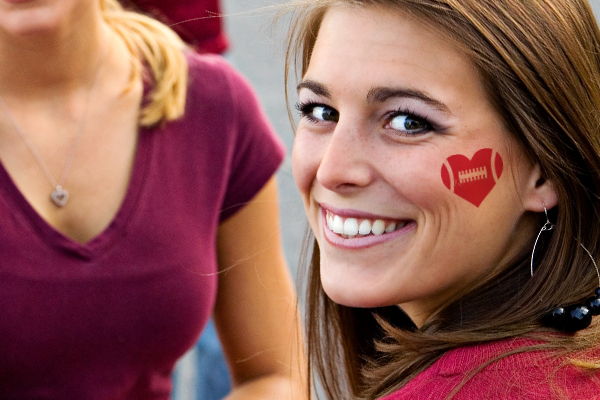 Want more great ideas and inspiration? Follow us on social, or sign up for our newsletter for amazing deals delivered directly to your inbox.
StickerYou blog posts are written and published by members of the StickerYou team at our headquarters, located in the beautiful city of Toronto, Canada.