Themed Weddings For Every Guest
April 23, 2019
|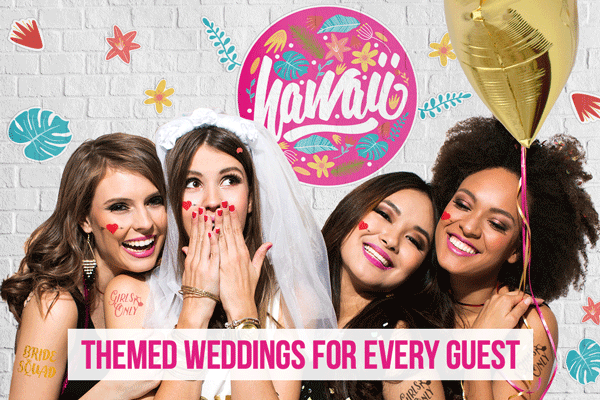 Share this post:
Everyone loves a themed wedding. It's obviously a fabulous way to insert your personality in your special day but it's also way easy way to bring together groups of people who may not know each other. A theme makes sure all your guests have things in common (apart from knowing the soon-to-be-wed couple) and keeps them entertained.Weddings guests do however differ from wedding to wedding and some may or may not be more enthusiastic about your wedding theme than others. Here are few of StickerYou's favourite tips to make sure everyone at your wedding has the time of their life before you have yours!
Keep Kids Entertained at Your Country Wedding
Country weddings are fantastic because they always mean there's tons of outdoor space to keep all the little ones occupied throughout the wedding. Most outdoor activities can get messy quickly and the last thing parents and photographers want at a wedding is ruined attire. Luckily, outdoor decals of fun outdoor games can be customized to match your wedding's palate and keep little ones busy (or tuckered out for the rest of the day). Create a customized cornhole decal to match your wedding colours or monograms that you can leave outside for days on end (and reuse for anniversary's or vow renewal ceremonies).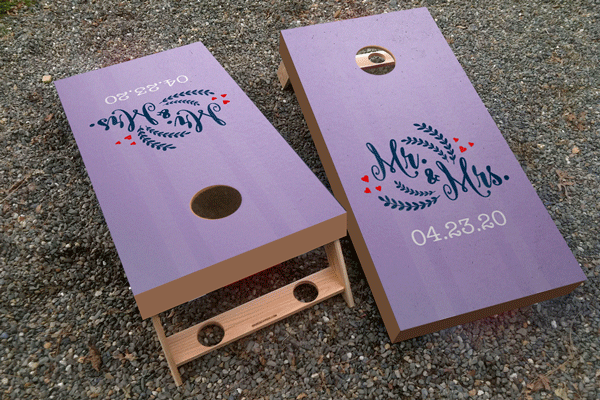 Bring Your Millennial Friends to Your DIY Destination
Not everyone can afford to dish out the dollars to your destination wedding, and if your millennial friends weren't spending all their money on avocado toast (insert eye-roll emoji here) than they might be able to. Instead of asking your broke millennial friends to take time off their two part-time jobs and side hustles theme your wedding around a destination and create a DIY photo booth of the locale. Create wall decals of famous skylines, landmarks, or scenery and set it up in front of a stationary camera. Wall decals are removable so literally anywhere in your wedding venue becomes the perfect place for a photo-op. To really #DoItForTheGram forgo the traditional photo booth stick props and supply thematic and funny temporary tattoos for your guests. Not only do millennials have a penchant for temp tatts, they also make hilarious wedding memories last forever.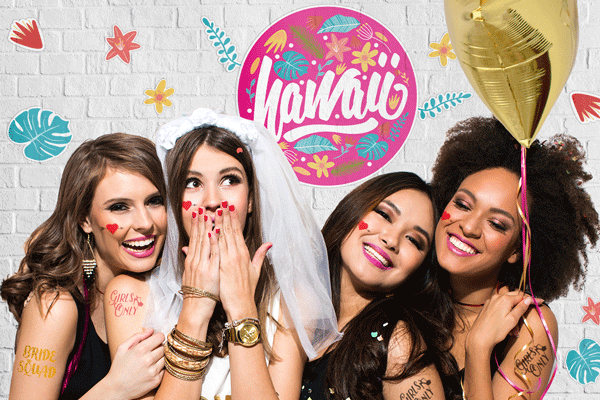 Get Everyone Dancing During Your Vintage Wedding
Vintage style never goes out of fashion, however dance moves definitely do. If you want your dance floor to be bumping all night long make sure everyone at your wedding knows what moves to bust out by customizing dance step floor decals. Create dance steps for classic moves that were the bees knees during the era of your wedding theme and keep Grandma and Grandpa dancing all night long by including ones of modern day dance crazes. Floor decals are removable so you don't have to worry about damaging rented spaces.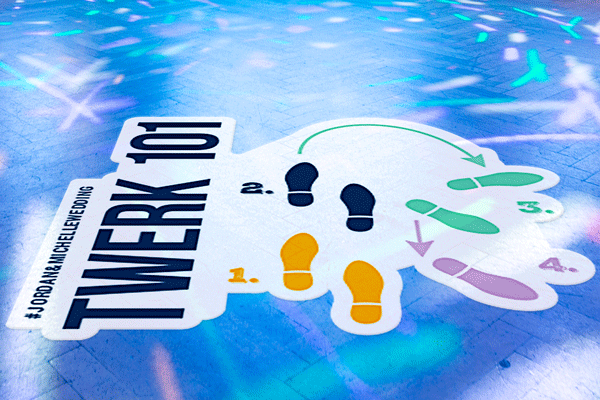 Help A Hipster With Hangover Kits
If there's one thing hipsters love it's a wedding. It's a perfect excuse to unironically wear their fanciest garments and indulge in their most preferred potables - craft alcohol. A very en trende (and economic) mode of keeping your guests quenched is to bottle and serve your own artisanal wine or your own craft beers. However, one pint can quickly lead to another which can quickly lead to a headache the next day. Supply guests with hangover kits with Wedding favor labels customized to match your wedding's colours, theme, or monograms. Include things like ibuprofen (duh), mini bottles of water, or even antacids. The last thing you want is for your guests to regret having too much fun at your reception and a hangover kit will definitely help them ease into the next morning (or afternoon depending on when they wake up).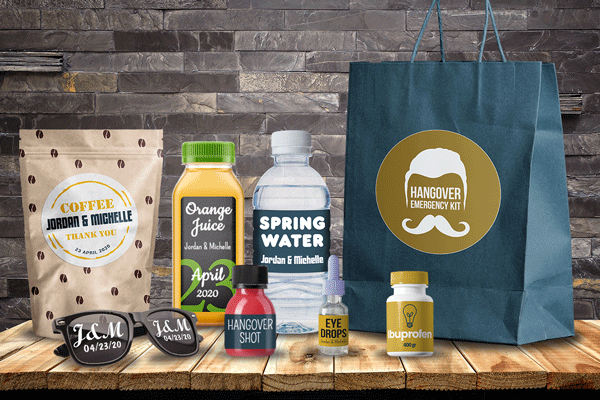 For more celebratory sticky inspiration check out the video below:


Want more great ideas and inspiration? Follow us on social, or sign up for our newsletter for amazing deals delivered directly to your inbox.
StickerYou blog posts are written and published by members of the StickerYou team at our headquarters, located in the beautiful city of Toronto, Canada.