Stickers: The Best Way to Promote Your Band
October 15, 2019
|
Share this post:
Attention aspiring musicians! After all the work you've put into making your songs amazing, you definitely want people to hear and enjoy your music. Promoting your own music careers is an essential endeavor for aspiring musicians, but it can feel difficult if you're not equipped with the proper tools. Here at StickerYou, we know a thing or two about how to make things stick, like an ear worm, but with sticky products. This blog post will recommend some promotion strategies that are low-cost and high impact for aspiring musicians to gain more fans. Thankfully, the best promotional tool for bands and musicians to use is inexpensive and has a flair of creativity: custom stickers.
Why Stickers?
Stickers are a great promotional tool for bands to find and maintain fans because they're inexpensive, easy to buy in bulk and have a multitude of uses. While social media is important to promote your band, incorporating offline marketing techniques can help you reach a more diverse audience. Unlike the internet, the 'real world' isn't controlled by an algorithm so by putting your name and logo out into the real world, you will be able to reach people who may never see your band online. Instead of letting an algorithm target your audience, figure out where your potential fans are going and put your bands information there. Stick your bands sticker and information in public places for continuous exposure, like graffiti art walls or the local dive bar's washroom stalls. Stickers are better than posters because they can be pasted where posters usually cannot and will remain up for much longer, especially if they are waterproof like StickerYou's vinyl stickers are. When fans are given stickers as merch, they're likely to stick them on their laptop or guitar case, which allows the sticker to continue to be seen by other people. Everywhere that someone goes with their laptop showcasing your sticker on it, more people will gain awareness of your band [ kind of like making your fans into free walking ads ;) ]. Much like brand recognition, you are trying to establish band recognition! So, the next time someone hears about your gig they will think, "I recognize that name, I should check them out!"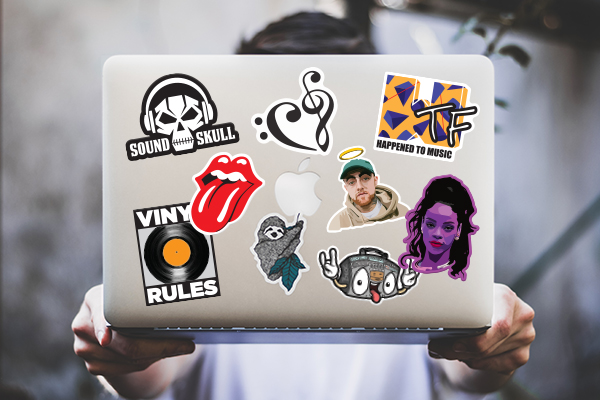 Unexpected Uses for Stickers
Stickers are very versatile! They can have many uses beyond the merch table and normal handouts. One unexpected use for stickers are to add them to other purchases. For example, inside a CD case or along with a Tee-Shirt, people love free-bees and you can be sure that these stickers are going directly to fans who are likely to stick them somewhere visible. Create more than recognition for new fans by tempting them to look up your music immediately with a QR scan or a download code on your sticker. By putting up a QR code sticker to download free music at a bus stop, commuters will surely want to download the song and listen to your music on their commute. You should also make giving out your stickers into a part of your everyday interactions with potential fans, like including a sticker alongside your tip at a bar or passing them out to people in your workout classes.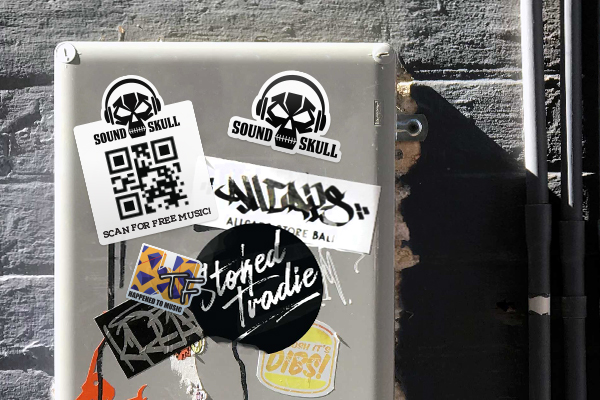 How to Make the Best Stickers
For sticker publicity to be the most effective, you'll want to make sure your sticker is something people will actually want to keep and stick on their stuff. This means a great design and great quality stickers. StickerYou's vinyl stickers are waterproof and remove without residue, so using these high-quality stickers will improve the chance someone will add it to their laptop or guitar case. If you want your sticker to be your bands logo, make your logo a cool design knowing it will be a great sticker as well. For stickers that are not the bands logo, but rather a symbol or design related to your band, use similar styles and colors throughout all of your band's visuals so the sticker can be easily identified with your band. You might want to make stickers with your song lyrics, or designs that speak to the fan base of your music. Think about whether your fans would like their band stickers to have skulls / flowers / or a mixture of both? Who knows, a great free sticker today may be a collector's item for your band in a couple of years.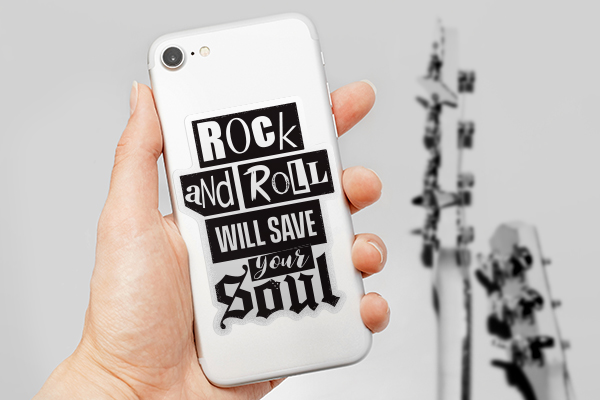 Iconic Stickers in Music to Take Inspiration From
There are so many amazing band logo's and stickers that you may already have on your guitar case, so take inspiration from them! What made them good stickers? For example, The Rolling Stones tongue and lips design is an iconic sticker. It is not only a cool design to stick on your guitar case, but it is instantly recognizable as the band. The logo was designed by John Pasche in 1970 and placed on the American cover of their Sticky Fingers album. In 2008, The Rolling Stones' tongue and lips logo was voted the greatest band logo of all time and continues to be an iconic rock symbol today.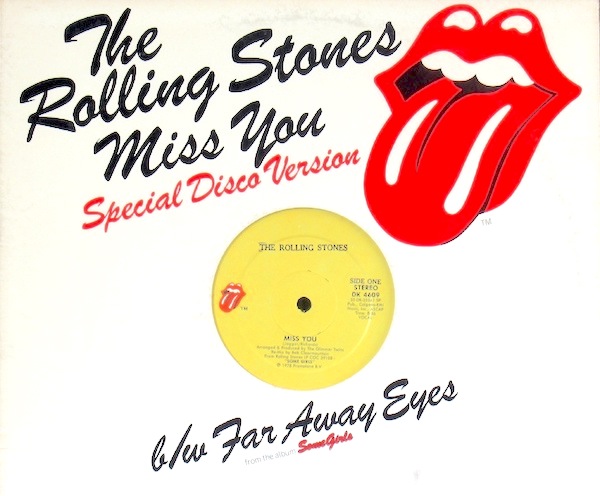 We can't talk about iconic stickers and not mention the 1967, The Velvet Underground & Nico album cover featuring the Andy Warhol print of a banana. The collaboration with Andy Warhol was supposed to boost sales for the album, but it turned out to be a flop for the first few decades. Only the first couple pressings of the album had the original banana stickers. The lucky 30 000 purchasers of this original album would have been directed to "Peel slowly and see" the banana peel sticker and revel a pinkish colored banana underneath. The initially unsuccessful album transformed into being recognized as one of the best albums of all time and this banana sticker transformed into an icon of music history.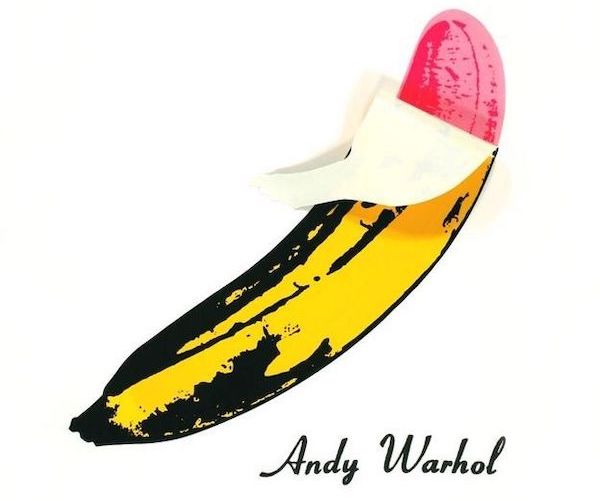 Most people don't know that the first print of this album actually had two stickers on it. The original back cover was a picture of the band and actor Eric Emerson projected on the wall behind them from one of Andy Warhol's movies. Emerson threatened to sue the band over the use of his image so they fixed the photo for the following prints but just stuck a large black sticker over his face on the albums that were already printed. Sure, a large black cover-up is not as exciting of a sticker, but it is definitely a sought-after collector's item today.

Here in Toronto, we can't talk about iconic music logos and not mention Drake's 6-god-praying-hands. Drake took an existing emoji symbol and claimed it for his own. It's evident that it's a great design because it has become a symbol that people want to wear and have around. 6-God stickers are stuck all around Toronto and has also become a common tattoo. It also appears on clothing, graffiti and I'm surprised we don't have a statue of the 6-god hands downtown yet.
Now it's Time to Make Your Own Stickers!
Whether you're sticking with your logo or "sticking it to the man", let your creativity run wild with all the sticker making options available from StickerYou! Once you have an idea, bring it to the next level by making it a clear sticker, or matte, or metallic foil. With StickerYou, your design can also be made into a temporary tattoo, tee shirt or a drum decal! You can use StickerYou's easy to use online sticker maker to play around with colors and fonts until your sticker is perfect. If you need help with your design, the art team at StickerYou would love to help ensure your sticker is worthy of a packed stadium and an encore.
Want more great ideas and inspiration? Follow us on social, or sign up for our newsletter for amazing deals delivered directly to your inbox.
StickerYou blog posts are written and published by members of the StickerYou team at our headquarters, located in the beautiful city of Toronto, Canada.