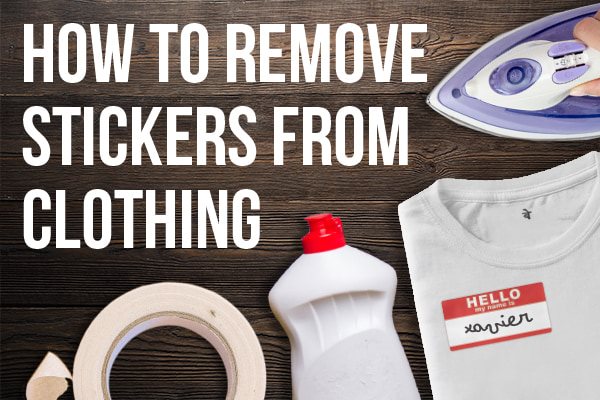 Stickers have become part of how we express ourselves and our affiliations. They're now commonly used to jazz up any article of clothing and as an affordable way of tapping into brands.
So when brands, businesses, and personalities change as much as they do, you need easy ways to remove stickers from clothing and create fresh surfaces for new stickers.
Branded and customized stickers are among the fashion industry's most sought-after items, and fortunately for you, StickerYou stickers are easily removed.
Here are some of the best ways to remove stickers from clothing.
How to Remove Stickers From Clothing With Dish Soap and Water
Everyone knows that dishwashing soap and water function as versatile cleaning solutions. These products also help to remove stickers quickly and safely.
Here are our recommended steps to follow:
Step 1: Locate the sticker on the clothing and apply a dish soap solution thoroughly over it.
Step 2: Let it sit for at least 15 minutes. The longer you let it sit, the better.
Step 3: Using your fingers, gently pull the sticker up, starting from the edge.
Step 4: Rinse the area thoroughly.
Step 5: If the sticker and residue do not come off, repeat the process.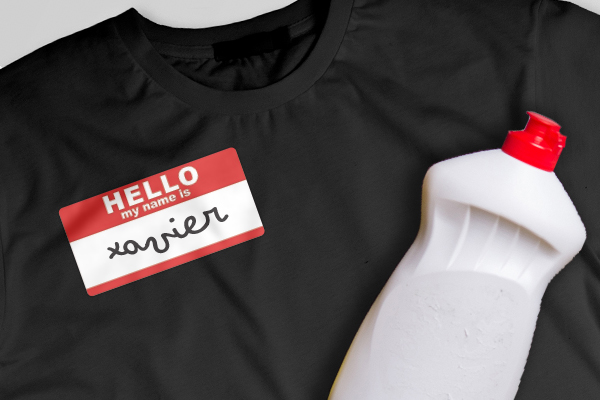 How to Remove Stickers From Clothing With Warm White Vinegar
Vinegar is a firm staple in anyone's household. Used for deodorizing and cleaning just about any surface, warm white vinegar also works wonders on sticker removal. And, unlike bleach, it does not damage your clothing.
Step 1: Place distilled white vinegar in a small glass bowl and pop it into the microwave.
Step 2: Microwave the solution for about 20 seconds until it becomes warm.
Step 3: Dampen a clean towel with the vinegar, but do not soak.
Step 4: Wipe the white vinegar solution onto the sticker area and allow it to sit for 10 to 15 minutes.
Step 5: Using a dull scraper or a dull kitchen knife, gently scrape the sticker off the clothing.
Step 6: Once you remove the sticker, apply a little laundry detergent to remove the white vinegar smell and ensure the clothing is clean.
Step 7: Rinse and wash the clothing item and hang it up to dry.
How to Remove Stickers From Clothing With a Clothes Iron
You've probably used a clothes iron to get your clothes looking sharp, so why not try using your iron to remove stickers from clothing? Irons are a great tool to remove sticker adhesive.
Step 1: Place the item of clothing on an ironing board, with the sticker area in the middle of the ironing board but facing down onto the ironing board.
Step 2: Turn the iron onto maximum heat and iron the sticker area.
Step 3: Do not leave the iron on the sticker area for more than 5 to 10 seconds.
Step 4: Once the sticker and adhesive are warmed up, gently remove the sticker by hand.
How to Remove Stickers From Clothing By Freezing
A less common solution, but one well worth the try, this one is especially effective on synthetic material.
Step 1: Place the item of clothing into the freezer for about 45 to 90 minutes to allow the sticker to solidify.
Step 2: Once the sticker has solidified, gently pluck or scrape off the sticker with a metal spatula.
Step 3: After the sticker has been safely removed, wet the area and scrub gently with dish soap and water before washing the item of clothing as usual.
How to Remove Stickers From Clothing With Masking Tape
Another not-so-common solution is removing stickers with masking tape. With no risk to the fabric or the potential of damaging the clothing, masking tape is a win-win.
Step 1: Place the item of clothing on a flat surface.
Step 2: Apply a piece of masking tape on the desired sticker or adhesive spot.
Step 3: With repeated action, quickly peel the tape back, removing the sticker.
Step 4: Repeat if necessary before washing the item in clothing as you usually would.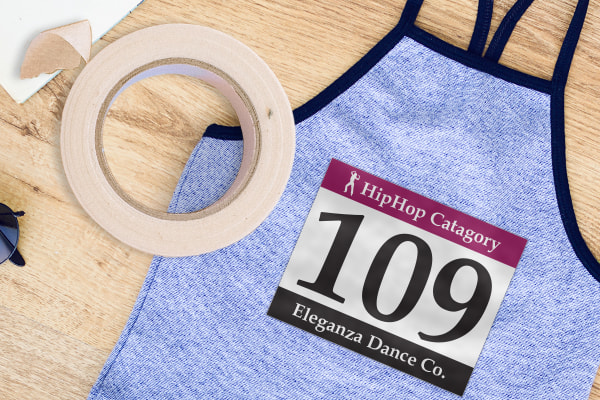 Alternative Products to Remove Stickers From Clothing
WD-40
Lemon essential oils
Rubbing alcohol
Dish soap with peanut butter
Stain-removing solvent
Dry-cleaning solvent
Precautions When Removing Stickers From Clothing
Choose the right solution or product for your clothing. Check the clothing label to assess what fabric it is and what cleaning instructions may entail.
Choose the right product for natural-fiber clothing and the right product for synthetic clothing.
Avoid bleach at all costs, as this thins the fabric and damages the clothing item.
We hope with these easy steps and tips on how to remove stickers from clothing, you'll get those clothing items ready for some new stickers to show off in style!


Want more great ideas and inspiration? Follow us on social, or sign up for our newsletter for amazing deals delivered directly to your inbox.
StickerYou blog posts are written and published by members of the StickerYou team at our headquarters, located in the beautiful city of Toronto, Canada.